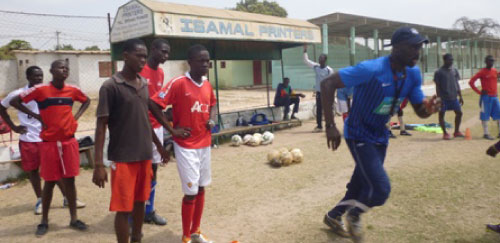 Wale Adek, a Sierra Leonean-British born, who has become the sponsor and agent for the academy, visited The Gambia to know the academy's constraints and conduct training for them on basic knowledge of football.
A semi-professional who started playing football at his school age till university, Mr Adek played for Maine Road football team in the Northwest countries league.
"The reason why I like coaching is because I have a vision to develop talents and that I have to start from the grassroots level; this is why I am coaching young kids from 14 below," he said.
"I enjoy coaching kids for them to be proper and perfect young players tomorrow. Presently I am coaching an academy called FOE Academy named after a Cameroonian professional football (Marc Vivien Foe), who died on the pitch during the Confederation Cup in South Africa."
The team has won many trophies because they play good football as an academy and they are focused when playing, he says.
"For this - Gambia Raptim Academy - they need a lot in the area of materials, coaching and how to develop as young players, because these past days during my training with them, I have found it very tough in the area of communication. What I saw in them and I think they critically need is only good coaching, and patience can make them to develop fast."
Wale added: "They don't listen and don't have patience on the ball and play how they like, but in this one week their way of ball approach has changed; they listen to one another, which I am happy about.
"It is a good academy if they continue to train as team, and with team spirit they can be better players."
Read Other Articles In Article (Archive)