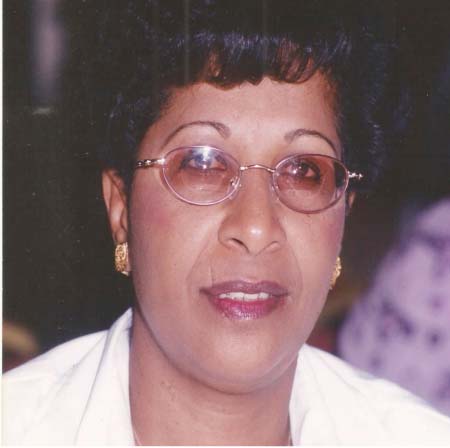 Mrs Ramzia Diab, a known personality in the political realm of The Gambia, who once served as nominated Member of Parliament in the Second Republic, has resurfaced to express her support for Dr Isatou Touray, an independent presidential candidate in the forthcoming presidential election, on 1st December 2016.

Mrs Diab made her views known during the recent convention marking the declaration of Dr Isatou Touray to vie for the presidency in the December polls.
The following is her statement of endorsement for Dr Touray's presidential candidacy.
My name is Ramzia Diab a bona fide citizen of The Gambia. I am here today to endorse the candidature of Dr Isatou Touray, Independent Presidential Candidate for the 2016 presidential elections in The Gambia.
I am equally aware that minds will ask Why Ramzia? Or what motivated Ramzia to take this decision? My answer to any inquisitive mind asking questions like the above is this. I am doing so for national interest. We as Gambians must never forget that national interest supersedes any other agenda or interest. On the other hand in politics there is no permanent friend or permanent opponent the only permanent friend should be The Gambia.
Politics like weather changes and is unpredictable. Based on the unpredictability of politics we as human beings cannot escape shortcomings. Sometimes we make mistakes, sometimes we make wrong choices, sometimes we even miss our steps. After cutting through the above challenges one can still ask the following question again. Where does the strength lie? My answer to the last question is going to be clear. We should never sideline learning from our mistakes and the mistakes of others. We should also never fail to learn from experience be it good or bad experience. In respect of this position, I Ramzia Diab am proud to say I am a product of that university called experience! I will therefore stand on the platform of political science with these words today. "I solemnly declare here and today that for the rest of my life I have made the choice of not to owe allegiance to anyone or any institution as a blind loyalist. I only owe allegiance to the nation and its people."
My decision to come out in the open after so many years, stems from consultations, discussions and reflections on both the present and the past.
In my mind Gambia is growing out of the past thus has no right to fail. We must always bear in mind that democratic change is the best guarantee, we cannot afford to destroy our country based on emotions, ethnocentric feelings or politics entrenched in hard feelings.
We must embrace each other as one people and one nation where law precedes any word or action and that very law ends up captioning any word or action. Which is why freedom of association, freedom of assembly and freedom of expression must remain the guarantors at all times. Anything contrary to a position like the latter will only lead division and then ultimately derail our nation into regrets. That is not what our future generation should inherit from us. Changing parties or changing strategies in politics is one of the best democratic lessons we should continue cultivating in this country.
Wherever there are options, progress is guaranteed. It is against this background that I feel so proud as a Gambian to associate myself with the first woman vying for the presidency. Although I am a woman my support for Dr Touray is far from being gender bias. Remember I supported male contenders in the past and my legacy speaks for itself. My conviction is that democracy is the best way to effect change.
At this point in time my heart is heavy because I remember the importance my late brother Alhajie Bubacarr Michael Baldeh attached to democracy. Today I would say Oh how I wish peace prevailed between us as a people! I say this because misconceptions and subjective feelings must never be used to guide any leader. I am advising both the incumbent and other contenders to see Gambia. I also call on the opposition to start discussions now therefore unite for the best interest of Gambia.
To be more precise I am endorsing Dr Touray, for the following reasons.
1. She is a mother therefore has proven to me that her parenthood can be transformed into services for an entire nation.
2. She is a highly educated person therefore the value of knowledge will never be secondary in any government she leads.
3. She is a human rights activist and has been there for us the women, our children and all those who feel the sharp edge of society's compelling forces.
4. She is a scorer and a team player that virtue will make a good leader whose gravitas and aura will galvanize powerful international players in favour of The Gambia.
5. Dr Touray is the right person at the right time.
Thank you for lending me your ears!
Read Other Articles In Article (Archive)