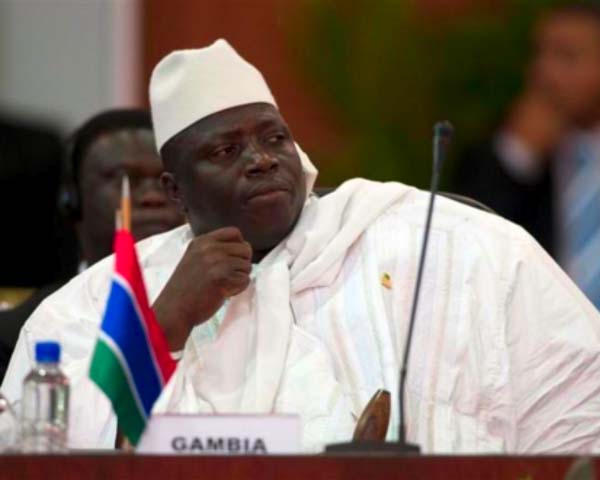 Hello and a warm welcome to another exciting edition of the weekly Youth Forum.
In today's edition, we bring you the Gambian leader's mercy, generosity and recognition to forgive all the youths who were serving prison term on drug trafficking-related offences, and had served at least 3 years.
The clemency was also extended to all youth serving life sentences on various offences, except the repeaters or second time offenders.
This is indeed a welcome gesture not only to their families and friends, but the whole world in general.
Other aspects of the Gambian leader's generosity for the youth folk is to highly motivate them by giving them a second chance in whatever drug offence they might have committed.
The most effective way of motivation is to change our attitudes and our lifestyles, and contribute our quota to national development, rather than the youths venturing themselves into drug trafficking or murder.
This recent gesture by the President would enhance the productive youth system, which is the basis to achieve the promise made to the Gambian leader for the youths of this country to achieve their target at all cost.
We hope that this kind of mistake for we the youthfolk would be the think of the past, especially all those who are lucky enough to be part of pardoned prisoners through the President's generosity.
Therefore, we are advising our fellow youths not to blow the last chance given to them for the period of 10 years.
Our visionary and exemplary leader did acknowledge the fact that some youths are to serve at least 10 years, but he decided to forgive them.
This is more than gold and silver, and it is the most powerful motivation one would ever give to someone who has allegedly committed such kind of an offence.
President Jammeh had been providing a lot for the youths of this country beyond all reasonable doubt, and had recognised the importance of youths in this country; and he had still been advocating for the youths to take up their role so as to become good future leaders of this beloved nation.
However, many great analysts had pointed out that in history this kind of forgiveness, in terms of pardoning prisoners, had never happened anywhere in the world and, therefore, The Gambia was the first country to break this record through the kind gesture of President Jammeh.
Once again, Mr President, on behalf of the youths of this country, especially those who were pardoned, we are saying a big Bravo to you and your government; may God give you happiness and long life above all the eternal happiness for the rest of your term in office.
A productive youth system is key to national development, and the youth are not exempted to that, and it is high time for we the youths to showcase our talents; and it is the more likely that many youths would like to open a new page.
Mass Njie of Janjanbureh Prison, one of the ex-drug convicts, said this was really a happy momentum for him and his family in general.
"Imagine I should serve in the prison for 10 years, but I have served less than 5 years through the help of God and the President. Today I will be going home.
"This is really a new life to us. Imagine I am married with two children, and I missed them for years; so today when I reunite with them it will be a really happy moment," he said.
"I believe this is a mistake to me, and it has taught me a real life while serving my jail term in the prison; and that alone is enough for a lesson. I, therefore, promise that this will never happen to me again in my life, as I learned a lot through this period," he said.
Read Other Articles In Article (Archive)