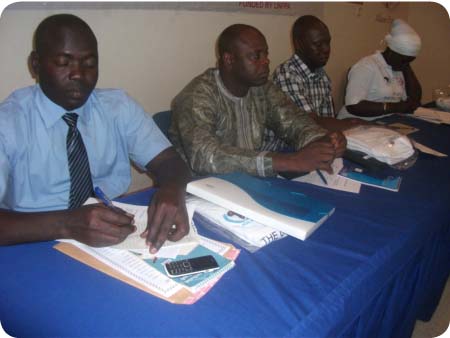 'Protect the Goal Campaign', which focuses on the fights against HIV/AIDS through sports was Wednesday launched in The Gambia.
The Campaign goes with the theme "zero new HIV/AIDS infections, zero no discrimination and zero AIDS-related deaths."
The launching ceremony was held at the Alliance Franco office by members of the Pan-African Youth Leadership Network group, also known as ROJALNU.
The issues put on the desk call for more positive attitudinal change towards prevention of AIDS, funded by the UNFPA and attended by delegates of the association at the recent summit of the network held in Dakar, Senegal.
The association also intends to engage the Gambia Football Federation (GFF) and the National Sports Council in the fight against AIDS through sports.
ROJALNU country coordinator Lamin Marong said the vision of the group is to build a true African youth body for the transformation of the continent with key stakeholders to achieve the common goal.
He added that the campaign focus on HIV infections through the three zeros, by concentrating on "Protect the Goal Campaign."
AIDS remaining a global catastrophe is responsible for over 20 million deaths globally, tens of millions of children left orphaned and some 33 million people living with HIV, he said, adding that it continues to be a living cause of death globally and a primary cause of death in Africa.
Achieving AIDS-free generation, Marong stated, needs to do more with reaching the hardest hit communities, while calling on people to go for a VCT test.
GFF Technical Director, Ebrima Manneh, said as a federation which represents the world football governing body FIFA on the local front, the GFF has given significance and relevance to the launching of 'Protect the goal campaign'.
He said they would ensure that all the people eligible for life-saving treatment access the system that provides resources.
He promised that with the encouragement of local representatives, they would use football to educate young people about HIV/AIDS in staging promotional events in collaboration with the GFF to provide young people with a safe space to learn about HIV prevention, to mobilize the worlds of sport and culture to strengthen the AIDS response and accelerate progress in HIV prevention, particularly among young people.
Read Other Articles In Article (Archive)