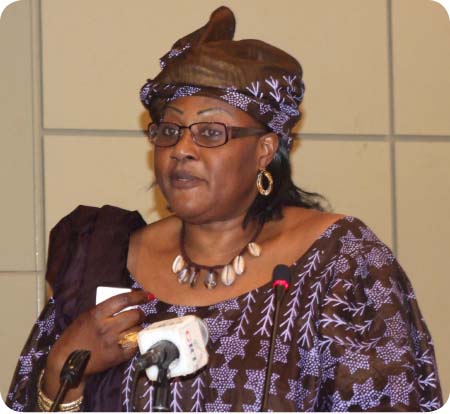 [endif][if gte mso 9]
[endif] [if gte mso 10][endif] StartFragment
ICT leaders and internet service providers have been urged to provide affordable and accessible services for the people's benefit.
This advice was given by The Gambia's permanent secretary at the Ministry of Information and Communication Technology (MOICI), Nancy Nyang, at the closing ceremony of the 12th Innovation Africa Digital (IAD) summit held from 25 to 27 March at the Kairaba Beach Hotel in Senegambia.
"We ought to look at a more holistic avenue of not only providing our services but providing these services in a moreaffordableandaccessible manner," said PS Nyang, who commended the participants and summit organizers for dilating on very pertinent topics and issues hinging on providing better services and customer satisfaction, over the three-day programme.
She quoted Steve Jobs as saying, "Technology is nothing. What's important is that you have a faith in people, that they're basically good and smart, and if you give them tools, they'll do wonderful things with them."
Mrs Nyang said her ministry's goal has always been, and in tandem with sister countries in Africa, to turn The Gambia and Africa into a competitiveICT incubator and hub, which would becomean outsourcing destination and a base for technologyservices, technology knowledge production and technology development.
"We would like to see an Africa where its citizens have access to connectivity in the crucial sectors of health, education, agriculture and of course trade," PS Nyang said.
"Being connected is a fundamental right of individuals; the dynamic nature to the ICT revolution in Africa, especially in the last 10 years, has proven this belief."
She continued: "You will therefore agree that an event like IAD will certainly serve as a forum to further promote ICT investment in Africa.
"With IAD, I can safely say that though we cannot see our future, we can indeed create it and the process begins here and now."
Professor Muhammadou Kah, vice Chancellor of the University of The Gambia, who also addressed the closing ceremony, spoke about the importance and relation of ICTs to a university, such as the UTG.
He called on all to do more to take ICT to another level in this day and age and for posterity, as it is a hub for learning and promotion of education.
Managing Director of Extensia Ltd, Andria Hall, who delivered the closing remarks on the occasion, thanked all that worked concertedly to ensure a successful 12TH IAD summit.
Increased bandwidth to benefit consumers
In her initial statement addressing the Summit, PS Nyang urged internet service providers in The Gambia, together with PURA, to ensure the increased internet bandwidth in the country translates to price reduction and improved quality of ICT services.
She pointed out that the government is, however, aware that the increased telecommunications infrastructure has not translated to price reduction and improved quality of ICT services for consumers.
Internet bandwidth in The Gambia "has increased significantly" as all the internet service providers (ISPs) have multiplied their bandwidth capacity, the PS noted, but this "has not translated to price reduction" and improvement in ICT service delivery.
The Gambia's bandwidth is said to have increased by fourfold since the installation of the African Coast to Europe (ACE) submarine cable, some two years ago.
PS Nancy Nyang said the government is leaving no stone unturned to make the people of The Gambia benefit from the bandwidth in the country.
In line with this, she said, her ministry has developed a regulation for open access to the submarine cable through the support of the International Telecommunications Union (ITU).
The regulation will provide mechanisms to enable the un-served and under-served population, especially those in the rural areas, to have access to telecommunications and related ICT services.
"These regulations and policies will be available for adoption this year," PS Nyang said.
The PS also thanked their partners, Extensia Ltd for believing in The Gambia to host the IAD.
She also congratulated their local organizing team led by DPS Lamin Camara, as well as their local sponsors including Gamtel, Gamcel, TELL, GIEPA and PURA, for making the summit a succsess.
Organised by Extensia Ltd, in collaboration with The Gambia government through MOICI, the three-day IAD summit discussed the theme: "Quality of Service and Customer Experience."
Read Other Articles In Article (Archive)