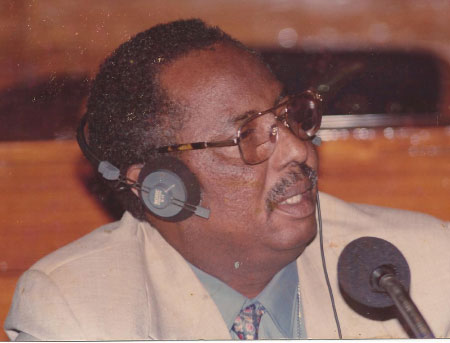 Today marks ten years since one of Gambia's illustrious sons, Deyda Hydara, was gunned down in cold blood for contributing into meeting the needs and aspirations of the Gambian people and humanity at large through the discharge of his professional duty as a journalist.
Born on 9 June 1946 at Dobson Street in Banjul, Deyda Hydara was gunned down by unknown assassins on the night of the 13th anniversary of The Point newspaper, the paper he co-founded and for which he served as Managing Editor till his gruesome murder.
On the tenth anniversary of the assassination of Deyda Hydara, a beloved friend and colleague, heads of The Gambia's various media houses and colleagues in the media have again expressed concern about the slow pace of developments in getting hold of the culprits and bringing them to justice.They therefore re-echoed their call on the matter; that more is done to bring the culprit(s) to book.
Below we reproduce the statements by various media chiefs on the occasion of the anniversary:
Sam Sarr, Editor-in-Chief of Foroyaa newspaper
The death of Deyda Hydara is an important question, because somebody in the media has been gunned down and no clear report has been actually indicated as to whom the culprits are, but I think now the ball is in the court of the UN to actually say something clear.
Because, if the government has indicated that they have invited the United Nations to come and investigate the matter, whether it is true or not true; that is up to the United Nations to make things clear. If that is the case, then what is happening: something happened and the government probably thinks they cannot handle it and probably they want to be transparent and they have invited the United Nations; I don't know why nothing has been stated to clarify their position.
If the UN has been invited and the UN feels they cannot do it they should give tangible reasons and come out publicly, and say we cannot do it. If it is not true, they should come out and say so; if it is true and they can do it, then they should proceed and investigate. As of now no one can say what is what.
It is the government's responsibility to protect its citizens, but where an independent body like the UN is invited to come and investigate the matter, it is their responsibility to respond to that invitation.
Memories of Dayda Hydara
Deyda Hydara is a colleague in the media and he showed interest in the development of the media and was very active in ensuring that the media progresses.
He collaborated with colleagues to see the progress of the media. That openness and support he gave to the media is something that would never be forgotten and his position in defending freedom of expression was commended.
Ten years is a long period and something tangible should have come out, at least. If all efforts have been made and been transparent, then everybody would be satisfied. Now the UN should come out and explain things clearly.
Madi Ceesay, Proprietor and Editor of Daily News newspaper & newsonline
Nobody with his five common senses can imagine that somebody like Deyda, who has worked relentlessly for the development of this country, could be killed; and ten years to date his case is not mentioned in court; that is very unfortunate.
I would reiterate my call to say that government should re-open Deyda's file and thoroughly investigate his killing.
Deyda was simple and down-to-earth; he was a citizen who worked all his life for the development of this country.
We cannot recount all the things and developments Deyda as a journalist has brought to this country.
Any time I think about him, I remember some of his achievements in the media. For instance, the setting up of a local Gambian newspaper The Point is one big achievement. All the stories going in and out of his paper today, which has brought certain developments to this country during his life time and after his life time, is something that really counts.
Therefore, a citizen like that, killed ten years down the line; I think something should be done and the lead institution to do somehting about it is the government.
If the government does not have the resources and the manpower, as we have seen happening here, we can ask for help from expert agencies like the FBI, and the CIA. We can extend invitation to them and they will help us with the matter.
We have seen it in the case of a British nurse, who was killed here. They invited the British investigation team and The Gambia Police Force and it did not take them more than two weeks, and the culprits were apprehended.
Deyda can never be forgotten because he has built an institution; which is why ten years to date people are asking about who killed Deyda.
If Deyda had not instituted an institution like that, he would have been forgotten like many other people.
Memories of Deyda
I have very good memories of Deyda. Myself and Deyda belong to ahumanitarian organisation called the Lion's Club in Banjul. I can say we were the first founders of that club.
I have good memories of how we used go to our meetings.
I also have good memories of Deyda as a journalist, and he is one of the people who has contributed immensely to who I am today.
My mentor is Swaebou and everybody knows the relationship between Deyda and Swaebou. I remember when I was a young reporter, he used toencourage me on the job.
Deyda was one of my coaches; I will never forget him and I pray to God that his soul rests in perfect peace.
Hamid Adiamoh, Proprietor and Managing Editor of Today Newspaper
It is unfortunate that a person as important as Deyda Hydara in the society would be gunned down in the manner in which he lost his life.
It is also unfortunate that this happened in a country we call the Smiling Coast of Africa, a country that is known for its peace, security, stability and so on.
I also think it is unfortunate because ten years after, we are still not able to know who did this act. It is a slap on the face of justice and of everything that is normal. It is a great insult on those who practise journalism and everybody who stands for human rights in The Gambia and anywhere in the world.
Even if we mourn his passing we also celebrate his life, because this is the man that lived for the truth; that stood up for justice, and was courageous enough and brave when others were cowards; and he lived an exemplary life in which he was able to stand up for the truth.
In my own estimation, Deyda Hydara is a martyr for freedom, justice, human rights.
We actually celebrate his life and look up to him as a model, and we believe he has done his best for society.
Memories of Deyda
I cannot say I know him better than others, but of course I had my encounters with him and he is a pleasant person, somebody who is ready to help others and open doors to help people.
I remember when I wanted to start my business, I went to him to seek guidance. Even though I was not working for him, and he did not know me too well, but he gave me a very good counseling.
I wanted to start a newspaper as a competitor, and most people will find a way to discourage you, but he was somebody who was willing to open his doors and who actually promised to do everything he could to assist; so I see him as a very great man and will continue to pray for Allah's Mercy on him.
Musa Sheriff, Proprietor and Managing Editor of The Voice
Musa Sheriff, publisher and editor-in-chief of The Voice newspaper said it is now one decade since Deyda Hydara was killed. I think the government should address the issues by trying to bring the culprits to book or to re-establish investigation into the murder of the late Deyda Hydara.
I will also say it is high time for media fraternity to take up the issue again with government, and to demand who killed Deyda Hydara.
I can say I am one of the youngest foreign journalists based in The Gambia in those days, and I knew the man very well as one of the outstanding journalists in the country.
When I first met him in October 1998, to inform him that I wanted to set up a newspaper; and if I would be allowed to print at The Point printing press, Mr Hydara told me,that is not a problem I can speak to Pap Saine, co-publisher in the same year. In December 1998 when I had a licence and I wanted to start publication, Deyda told me I could take my materials to start printing - myself and ML Jaiteh, the former point reporter.He really supported us during the time of Inquirer Newspaper.
When the paper closed down in 2000, Mr Hydara told me to keep it up; that was not the end. Deyda Hydara was indeed a nice man to me, and he promoted press freedom in all his activities.
Patrick N. Olisa, co-Publisher and Editor-in-Chief of Eras Business& Financial News
Today we mark a decade of Deyda Hydra's death. He is gone, but his legacy lives forever.
To those of us that were privileged to work with him, he was a role model and a mentor. Deydawas a thorough professional who fearlessly pursued what he believed in, and I hope his brand of advocacy journalism will be emulated by journalists everywhere, especially the young ones.
I remember that Deyda used to stress that 'facts are sacred', which was a major guiding principle of his journalistic work.
I pray that God will continue to grant his family the fortitude to bear the loss.
Deyda Hydra will always be remembered.
Read Other Articles In Article (Archive)