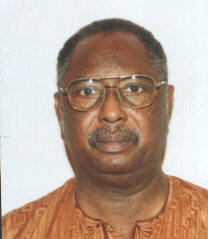 Bisimilahi Rahmane Raheemee, Alhamulilahi, Rabialaamena (In the name of Allah , The Beneficient , The Merciful, All praises and thanks to Allah)
Today marks the 10th Anniversary of the unwarranted and illegitimate killing of a most loved and loving husband, a very good brother, a supporting and loyal friend, a daring and fearless journalist, an excellent mentor, doting granddad and best of all - the greatest dad ever.
To Pa,
We miss and will always love you. If we had to choose all over again we would be honoured to choose you, for you took the ultimate sacrifice and died for your ideals. Though still in distraught, you have done us proud.
Happy 23rd Anniversary to The Point Newspaper!
It seems like yesterday when you were established. You brought so much joy to Pa his wish was to make you the voice of the voiceless and the oppressed.
We thank uncle Pap Saine, publishers, friends, the staff who are bending over backwards to keep his dream alive. May the Almighty reward you all. Thank you, Thank you and Thank you!
I know, you don't like to hear it and it doesn't feel like it but please forgive me, and allow me …..
Happy Birthday Aja Mariam Hydara, we pray that you live a long and healthy life to see these rank and files brought to book. Yours is the hardest, as the emptiness is vast and you feel you can never feel normal again; Pa's left huge shoes to fill as he was like no other in all he did and was (a dad, a journalist, a husband a friend and colleague) for he always went out of his way to help and always put the welfare of others before his own).
But Alhamdulilah (Thanks to Allah) for it's tough, but you doing a great job; for all we wanted was an extra time with him; as always with grace and dignity you keep us sane. Thank you for putting your pain last and soothing ours.
Finally, on the 10th anniversary of our beloved and dearest Pa, we reinforce our calls to the International Community, Human Rights Defenders, Amnesty International , Article 19, UN, EU, ECOWAS, AU, CPJ, IFJ, NUJ, MLDI and all specialists, journalists,NGOs, RSF, AFP, TAEF, WAJA, GPU,International Penn, Open Society,and all organizations, activists, journalists and all thosewho believe in Freedom, JusticeFree Expression and Press Freedom to join us (after 10 horrid years) to renew our calls for Justice not only forDEYDA HYDARA's murderbut for allAfrican Journalists whose families are enduring the pain and despair of waiting for answers.
THANK YOU.
Read Other Articles In Article (Archive)