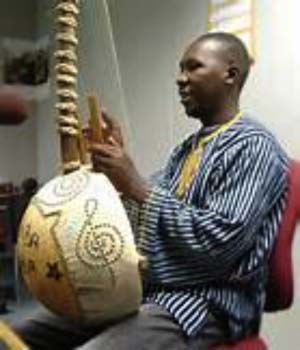 Pa Bobo Jobarteh is Gambia's Afro-Manding kora artiste and songwriter from a famous family of griots based in Brikama.
Pa was born into one of the Gambia's most famous griots families, whose musical tradition in West Africa began several generations way back in the eighteenth century.
His father is Malamini Jobarteh (former manager of The Gambia National Troup, now retired from music). His grandfather was Kelung Jobarteh and his great grandfather was Wandifeng Jobarteh, all masters of the kora.
He has musical full-blood that goes back for generations. His grandfather, Alhagi Malamin Jobarteh, was a leading artiste and torchbearer of the Jobarteh Kunda and Kaira Kunda.
Pa Bobo started playing the kora when he was six years old in 1988. At the age of 11, he performed at Womad in the United Kingdom to large audiences in Cornwall and Reading, Harmony and Healing.
Pa Bobo later formed the Touba Kaira Band, which featured his two junior brothers, Bai and Dembo, on drums and kora plus his sister, Siffai Jobarteh with a melodious Afro-Manding voice.
Together, they began to play at naming and wedding ceremonies throughout The Gambia.
Nowadays, Pa's rising popularity in The Gambia came because of his adaptations and progression with his inherent musical background.
Pa continues the trend tradition of his ancestors, a line of hereditary musicians and poets specialised in music, praise singing, oral history and serving as social advisers in burning issues in society.
Pa is among The Gambia's foremost modern musicians: a kora player, a singer, an arranger, composer, a lyricist and a griot of the Mandinka tribe.
Pa, along with his elder brother Tata Dinding Jobarteh, is described by many as a spearheading musician in the revival of Afro-Manding in a traditional way through using instrument called kora in Mandinka traditional music, a 'relentless tumbling dance music'.
He was recommended by The Gambian leader, President Yahya Jammeh and the National Centre for Arts and Culture to represent the country with hishit song"Oh Gambia Peace, Love and Unity", whichis widely appreciated by Gambians both home and abroad.
Pa has performed at numerous music festivals both home and abroad including America and Europe.
His approach to rhythm is largely fresh and spontaneous, always astonishing his audiences.
He is also known for his exceptional deep baritone voice, which he uses for singing folk songs, including his famous song "Oh Gambia Peace, Love and Unity" as well as poetry, as in Manding.
Pa has featured in several concerts including The Gambia's independence anniversary musical jamboree in 2000.
His memorable appearances include the performance he made at the Womad Festival in the United Kingdom in collaboration with different varieties of music.
He does not only show his versatility but also the success of his Afro-Manding venture.
He is a bold collaborator, lately having done wide-ranging concerts with artistes as diverse as David Gilden in the UK earning him the title "a mystic kora player".
Pa Bobo is a young Kora artiste with huge ambition in his Touba Kaira Band.
Read Other Articles In Article (Archive)