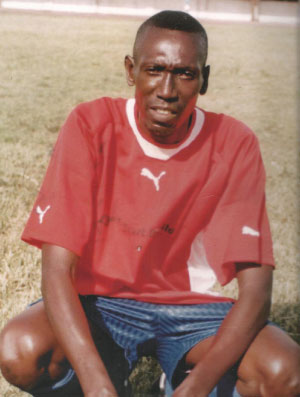 Pa Ousman Ndow commonly known as Pa Ndow was born on the 2nd July 1954 at No. 77 Lancaster Street in Banjul. He was the son of late Pa Matarr Ndow known as Alhajie Njagga Ndow and Mam Musu Joof.
As a teenager, he started his  education with Muhammed Primary School from 1961-67, and during his primary school days he played for the school for three  years, and then proceeded to BCC school from 1967-71. We was  playing in the junior team with Baboucarr Sanneh (BS), Essa Bobb (Sukuro), Abdoulie Jagne, Antouman Secka, Momodou Sibbi (Bla), Ebrima Jallow (Pill-bi), Baboucarr Sowe (Laos). He played with Armitage, Crab Island School and during this period he was scouted by Ebrima Njie known as PESSEH.
He joined PESSEH XI with other players like Late Kebba Njie (King K), Emmanuel Conteh , ACey, Sankareh Jawo, Bekai Njie, Martin Jobe, Marget Jobe, Victor Gabbidon, Paul Ogoo, William Kennedy, Bye Nyass (Voe), Alex Dacosta, Cherno Mballow, Tijan Sanneh, Charles Davies (Kofi), Ebrima Jallow (Pill bi), Sulayman Njie, Momodou Ceesay (Adumi), Baboucarr Ceesay (Maya).
In 1972/73 season PESSEH XI registered in the 2nd Division and renamed the club BENFICA. In 1973/74 BENFICA was promoted to Division one and during this period Pa Ndow was invited to play for the junior team in SENEGAL.
In the 1975/76 season, six teams were relegated namely, Police, Eben, Benfica, White Phantoms, Adonis and Augustinians, and Pa Ndow joined WALLIDAN.
He made 60 appearances for Benfica. He joined WALLIDAN in 1976/77 season until his retirement in 1988. With WALLIDAN he made 164 appearances in both the League and FA cups.
He won the League seven times, the FA cup eight times.
He made his international debut in 1977 against DENMARK on 03/02/77, under the management of Cherno Bara Touray and Kebba Njie (master).
Pa Ndow won four local trophies such as OK Saho, Papa Njie, GNIC and Muslim Association trophy.
Pa Ndow also played in CAF competitions with Hearts of Oak, Cannon de Younde, Cheba Ryadith, Real De Mali, Jean, SBA (Senegal), Republican (S/Leone) Raja Casablanca.
He also played friendly matches with other European teams B1901 (Denmark), Stars (Denmark). Pa Ndow also played in Nawetan matches with BENFICA, EBEN, ABELS and also coached HURRICANES FC based in Lancaster.
Pa played for the Gambia veteran's football team in Thies, Dakar, Sierra Leone.
He made 10 international appearances for the national team.
He was part of the Gambia team that lost 4-1 to Denmark 4 in 1977
Members of the then team were: Burama Jaiteh, Baboucarr Sanneh, Alhajie Nyan, Tony Joiner, Adama Samba, MI Jallow, Saloum Njie, Baboucarr Bah (Edacarr), Momodou Njie Police, Pa Ousman Ndow and the reserves were Momodou Musa, Mustapha Conteh, Abdoulie Star Jallow, Emmanuel Conteh and Ebou Faye (Limba).
In1985 he played in the Zone II team that beat Cape Verde 2-1
Members of the Gambian team were: Baboucarr Saho, Garba Touray, Dodou Touray (Saine), Baboucarr Sowe (Laos), Amadou Adams, Sheikh Ndure, Pa Ousman Ndow and the reserves were Momodou Musa, Peter Gomez (Pele Njago), Aziz Corr and Porche Sarr.
Pa Ousman Ndow passed away on the 8th June 2011, and was buried the following day. May his soul rest in perfect peace.
Read Other Articles In Article (Archive)