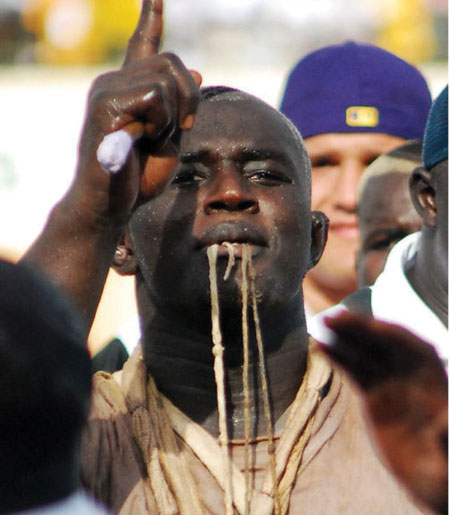 One of the Senegalese wrestling promoters, Aziz Ndiaye, has said he signed an exclusive contract with Balla Gaye, the son of Double Less, for the 2012-2013 wrestling season, giving him the exclusive authority to conduct the bout.
"I want two fights for Balla Gaye 2. The first for the month of March, and the second one by end of the season, that is, in June or July."
Refuting the information that he would pay more than 100 million FCFA (about D6 million) to his "client", Aziz Ndiaye said he took advice from his lawyer, Kassimou Touré, to distribute copies of the contract to journalists at a press conference he plans to hold tomorrow. This, he said, despite the fact that there is a confidentiality clause in the contract that binds him to Balla Gaye 2.
Meanwhile, Mr. Ndiaye has just concluded another contract between Balla Gaye 2 and Tapha Tine on Friday 9 November. This was confirmed by Zik FM Radio in Dakar. He announced that his lawyer Khassimou Touré signed the contract with the manager of Tapha Tine.
The wrestling season, which is scheduled to open shortly, promises to be hotly contested by the wrestlers. Despite the gentleman's agreement they often sign between them, the promoters do not miss an opportunity to over ride each other. After signing Balla Gaye 2 for an exclusive contract for the season, Aziz Ndiaye could benefit from a breach of contract between Eumeu Sene and Gaston Production, if he wants to face the "King of the Arena."
Nurtured since his infancy by Gaston Mbengue, which allowed him to have a nice house today in the Dakar suburb of Golf, Balla Gaye 2 eventually turned his back on his mentor, going first to Luc Nicolai, and then to Aziz Ndiaye . The latter offered him, in the contract that binds them for less than a week to find him two opponents in March and June or July 2013.
Questioned on future opponents of the son of Double Less, Aziz Ndiaye preferred to remain silent, but vehemently denied the information that he had signed a contract with Tapha Tine. To him, in his list of potential opponents, Balla Gaye 2 in addition to Tapha Tine, also mentioned others like "Bombardier" and Grey Bordeaux.
Read Other Articles In Article (Archive)