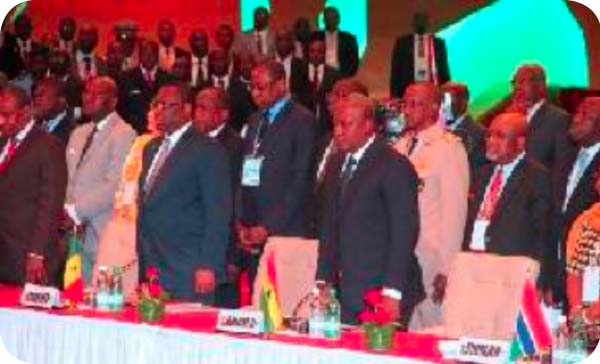 The 45th ordinary session of the Economic Community of West African States (ECOWAS) heads of state and government started Thursday in Accra with the menace of Ebola virus disease prominently on the agenda.
Health ministers from 11 West African countries met in Accra last week, and adopted a common strategy and promised better collaboration to fight the Ebola virus outbreak, the world's deadliest to date.
Other issues to be discussed include security; a recommendation for the introduction of biometric ID cards for all ECOWAS citizens; and, the abolition of residence permit requirements for all citizens within member states.
ECOWAS sources also said at this summit, ECOWAS leaders will discuss the situation in Guinea-Bissau, where a new president was sworn in last month g parliamentary and presidential elections.
Following the lifting of sanctions on Guinea Bissau by the African Union, there was need for ECOWAS member states and the international community to re-engage with the country and provide the support that is needed to strengthen its institutions.
The political and security situation in the sub-region especially in Mali and Guinea Bissau, was the main topic at a meeting of ECOWAS foreign and defence ministers held on Wednesday in Accra.
ECOWAS leaders will consider a report on ECOWAS's main activities and projects over the first half of 2014, submitted by the ECOWAS Commission.
President Yahya Jammeh is not among the leaders of the 15 member states attending the meeting. He is represented by the Vice-President Isatou Njie-Saidy.
However, the presidents of Mauritania, Cameroon and Chad, as well as the chairperson of the African Union Commission and the Secretary-General of the United Nations were expected to attend, our sources revealed.
Read Other Articles In Article (Archive)