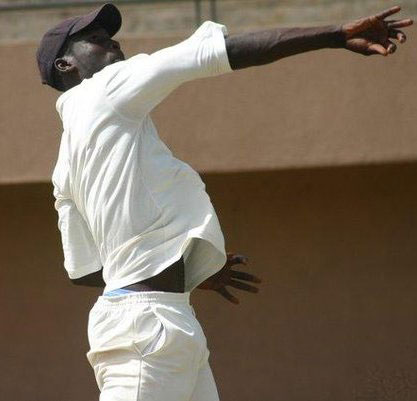 Moses Bahoum has already established a reputation in Gambian cricket as one of the most outstanding batsmen.
His smooth and clean batting style is one that cannot be compared in many rising cricketers of his age.
Born on 29th June 1987, Moses is a gifted right-hand batsman and a right-arm fast-medium bowler.
As a national team player, he played against visiting side London /Nigeria Cricket Club who are in Banjul as part of a one-week visit earlier this year. During that game, he was rated the best scorer with 40 runs. The Gambian selection won the game by a single wicket.
In November last year, Bahoum was named the man of game after scoring 65 runs in 19 overs during another international game with a Gambian selection and the Brampton Bryan & Leintwardine Cricket Club, a team from Herefordshire, England.
Moses Bahoum entered into the game of cricket in 1995.His cricket career came into light in 2002, when he traveled with The Gambia under 17 cricket team to Nigeria.
In September 2003, he became the first Gambian cricketer to be taken on a one week all rounder course in Zimbabwe.
His successful performance earned him a place in the senior squad.
He plays for Wallidan, one of the five cricket clubs in the National Cricket League.
Despite two more matches to go for each of the participating teams in the cricket league, Jewel of India is so far topping the table with 24 points, six points ahead of second place contenders, the Veterans.
Safe Way Asia XI is third at 12 points, followed by Ports who are trailing behind fourth position and six points.
At the bottom of the ladder is Wallidan with only three points.
Read Other Articles In Article (Archive)