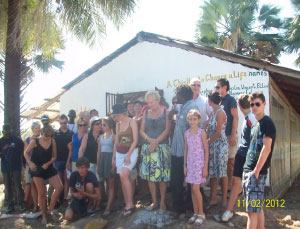 A Belgian organization called Children of Sun, with support from Diva, through their Gambian counterpart, Moses Camara, is putting the finishing touches on commissioning a poultry farm in Gunjur Kunkujang.
The organizers say that the motive of the initiative is to help the people of the community, particularly the children.
Speaking to reporters at the site on Friday, Keon Bleecker, secretary of the organization, said the organization was founded a couple of years ago to bring some projects to The Gambia.
He said they thought about doing projects in The Gambia such as agriculture, that can help people to take care of themselves and their responsibilities.
"We then came up with the poultry farm, because chicken are part of the culture in Africa," he said.
"We want to do it professionally, and we have already talked to the people in The Gambia and Belgium," he said. He called on the people to take care of the farm, assuring all that they will offer the technical support to them.
He was optimistic that this will give them the endurance and can help the project to grow to a bigger one. The shed, he said, can accommodate 550 chickens that can lay 3000 eggs per week.
Asked how soon it will commence, the secretary of the association told reporters that as soon as the sheds are ready, the chicks will arrive in The Gambia.
According to him, this was not the only project they are engaged in, as they have been helping the village school with several facilities such as toilets and a kitchen.
Moses Camara, project manager of the organization, said they choose Gunjur Kunkujang to help the school going children.
The poultry project, he said, is an initiative on its own, which is different from their school project.
"We are working with government on this project, and that is the Abuko Nature Reserve," he said, adding that they will bring in breeds than can stand a difficult situation.
He assured all involved that more sensitization will be availed to the people to educate them before the chicks finally arrived at the farm.
Read Other Articles In Article (Archive)