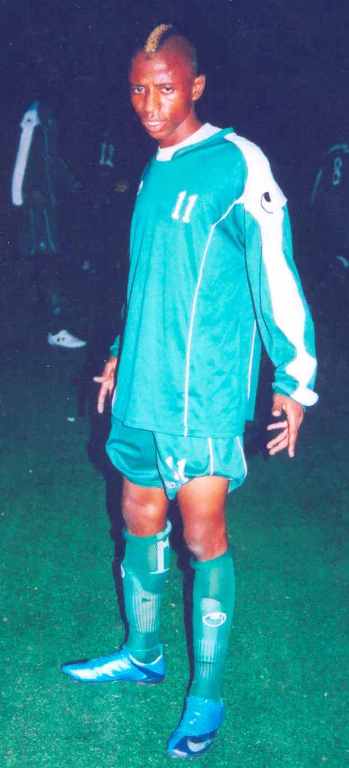 Gambian born forward Lamin Badjie, commonly known as Gambian Elhaji Diouf, is one of the finest centre forwards in the country's football.
The former Latdior and Interior player is currently plying his trade with the Senegalese top-tier club Saint Louis FC.
Badjie, who is greatly compared to his role model the former Senegalese superstar Elhaji Diouf, started his football career with Pa Joof Senior Secondary School.
The ambitious striker later proceeded to Gambia Muslim Senior Secondary School before catching the eyes of nawetaan team Maccassa FC following a successful stint with the Serrekunda East outfit.
In the journey of his football career he decided to make another switch to Kerr Gi FC, a struggling nawetaan team in Serrekunda East zone now called Green Impact.
Badjie, who enjoyed a fruitful relationship with Blackburn attacker Elhaji Diouf, also had spells with a host of top nawetaan teams including Misra and Daruu in Brikama in the West Coast Region.
A native of Tallinding, Badjie began competitive football when he graduated to divisional league with a second division team called Latdior FC of Bakau in the 2005/06 season.
The promising youngster later joined Interior FC in the country's top-flight football where he endured a successful two-year spell under the stewardship of the club's head coach Ebrima Manneh.
Named after the Senegalese icon Elhaji Diouf for his skillful resemblance of him, Badjie later moved to Senegal to meet Diouf whom he highly regarded as his favourite player.
Badjie, who also moved to Saint Louis in the Senegalese first division league in 2009, disclosed to this reporter that he was able to meet with Diouf through the help of Matarr Chobou, who made it possible for him to meet the Senegalese forward together with his wife Valery Bisso in Dakar.
He returned to Banjul after a fruitful discussion with Diouf, he said.
This, according to the Gambian born forward, was followed by a positive move back to Dakar where he joined Diouf's mother in Saint Louis in Ndarr, Senegal.
He revealed further that within a week of his return to Senegal Diouf came to Saint Louis and negotiated his possible involvement with Saint Louis in consultation with the team's head coach before signing a 3-year contract with the club last year.
Badjie and his Saint Louis outfit finished sixth position in the league table this year.
Read Other Articles In Article (Archive)