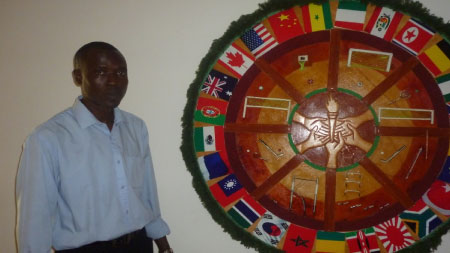 Jeans S. A. Carvalho is winner of the first edition of The Gambia National Olympic Committee (GNOC) Sports Art contest, which ended recently.
He won the five-day competition, which took place from 21to 25 February, with the theme: Sports and the Olympic values of excellence, friendship and respect, passing contenders Nelly Abigail Aubee, who took second position and Emmanuel Michael third.
His art with that of the two others will be sent to the International Olympic Committee (IOC) in July in London to join 50 selected others throughout the world where they will be given another judgment.
His participation in the contest was seen as a good step in the field of art and culture in the country.
Citing his motivating factor into the field, the young artist said that in 2006 during the AU Summit in Banjul he got the inspiration and desire to participate in the call for national development as well as responding to the president's call in welcoming the heads of state that were to attend the meeting.
"It was in this vein I began what I turned as my second profession the first being a banker," he said.
In June 2006, he was assigned to design 15 plaques for AU Summit. Since it was an African programme at home soil, his designs took the form of an Africa bearing.
He came up with many plaques in Africa shaped with President Jammeh's portrait on it which he said were displayed in Banjul, near the Arch, the turntable at Bijilo, the airport and the AU Villa in Brufut.
He also constructed a podium with the Gambia map at the bottom with the two code of Arms on the side. This podium is said to be currently being used at the state house.
In 2009, he was given a contract by the GPA to decorate in painting kitchen, and the V.I.P Lounge.
"My inspiration came about as a result of my strong taste for beauty and natural things since childhood. The functions I attended I always look at the perfection of the environment and its settings. It all started in 1980 during my high school education, when I designed and painted a sketch on the map of Africa and its countries. I went to a point that family members, coworkers and friends started to involve me in arrangements and settings which gave me an advantage and eventually become an artist.
"To conclude, I would like to say that my participation means bringing the first prize to the country."
Read Other Articles In Article (Archive)