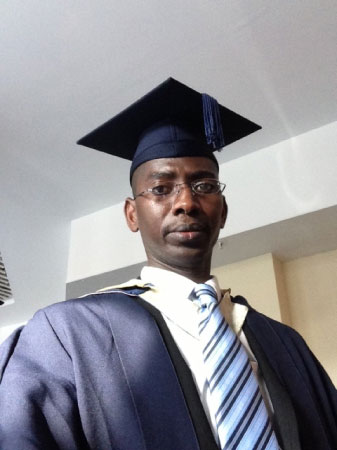 Later today, in faraway United Kingdom, a member of Gambian diaspora would graduate magma cum laude from the University of Birmingham with a Masters of Science with Merit International development (Governance and State-Building) degree.
Lamin Jassey the former administrative secretary of the Gambia Football Association, a youth activist, is among a privileged handful of others who would parade before an audience of well oiled academics and other dignitaries to receive his well deserved degree.
Ever since he forayed into the United Kingdom, Jassey had made one objective paramount among his priorities, the desire to make advantage of his new base's affluence and quality in education. Seven years on, he can now hang his life changing accolade as trophy to vouch for his time in the United Kingdom. ''That alone is life fulfilling and am deeply honoured to achieve this'', he said.
Lamin Jassey came through a humble and modest but strong and virtuous upbringing in Jassong village Jarra East, but now resident at not faraway Pakalinding,a couple of miles West of Jassong in the Western part of Jarra where his parents live.
Never shying away from challenges, Lamin went through Pakalinding Primary School with a burning desire to excel and duly passed the then much feared common entrance examinations to gain entry in 1991 in to Tahir Ahmaddiya High School, located in nearby Mansakonko.
Ahamaddiya Missionary schools, whether in Mansakonko, Serekunda or Basse are well known for their strictest adherence to the virtues of discipline, intense academic pursuit and useful curricular activities and Lamin Jassey made great use of all, proving to be outstanding student not just academic but a star in drama and current affairs. He was also a member of the prefectorial board.
But all the while he was in school Lamin developed a passion for sports especially football and he soon got involved in organisation and administration of local football competitions serving the village Nawettan committee.
His interest in youth and sports affairs grew alongside his reputation as an astute organiser earning the admiration of the community leaders and attracted more and more young footballers and enthusiasts to promote the game in the area.
From 1997 to 1999, in pursuit of further education Lamin attended the Rural Development Institute Mansakonko and studies Integrated Rural Development mixing intensive academic work with active youth work.
He was a natural addition to the efforts to develop sports in the district and in 2001 he was elected in to the Jarra West District sports committee, proceeding to become an elected member of the Lower River Region, Regional Sports Committee.
Between 2000 and 2001 he worked with the Gambia Food and Nutrition Association (GAFNA) as regional coordinator and in December 2001 he was drafted as a delegate to the then GFA executive elections for a four year term.Not happy with the statues of the GFA which disfranchised regional representatives he joined forces with fellow regional delegates to fight vigorously for the law to change to allow regional representatives to vote in the executive. The motion was unanimous and the constitution was duly amended and he was elected by the delegates of Lower River Region to represent them the GFA executive.
Jassey moved to the Medical Research Council (MRC), as a Field Assistant in 2002, whilst still active as regional executive rep for LRR.
It was until 2004 when Lamin resigned as executive rep for LRR to take an appointment as GFA Administrative Secretary, a post he held until October 2006.
While serving as the admin secretary at the GFA Lamin worked tirelessly, often the first to get to the office and the last to leave.
He developed a fantastic but professional relationship with sports journalist and clubs. I was to him that questions such as which fixtures has been rescheduled or cancelled were directed at. He naturally had such information at the tip of his finger, thanks to his sharp memory and great organisational skills.
In 2005, Lamin completed a Diploma in management studies at the Management Development Institute, in the same year was by virtue of his position heavily involved in the organisation of Africa Under -17 championships hosted and won by the Gambia.
In 2006 October Mr Jassey travelled to the United Kingdom on his own accord for further studies. From 2007-2008 he completed ABE Level 3 Certificate in Human Resource Management, at the Birmingham Management Training Centre. From 2009-2012 he completed a Bachelor of Arts with Honours in Public Sociology at the Birmingham City University. His thesis included a project entitled 'Academies versus State Schools.
From 2012-2013 he completed a Master's of Science with Merit International development (Governance and State-Building) at the Prestigious University of Birmingham, which ranks 17 out of 124 universities in the UK, and TheTimes and Sunday Times University of the year .He has written a dissertation entitled advocacy/campaigning versus service delivery as a strategy of engagement with governments.
During his studies in the UK Lamin continued in community work, serving the Sandwell council as a school governor and volunteering for action aid international as researcher. 
Read Other Articles In Article (Archive)