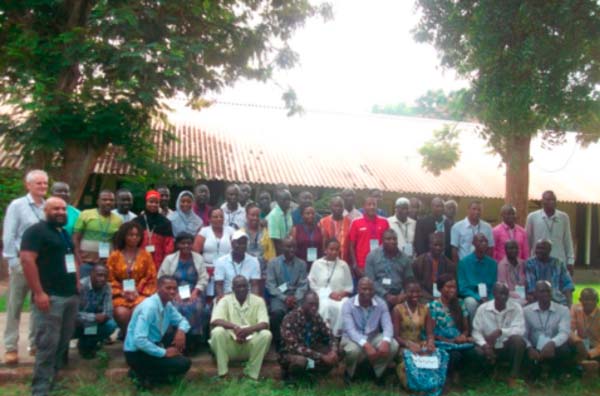 The Medical Research Council (MRC) Gambia yesterday hosted a three-day international workshop on fieldworkers.
The convergence marked the second workshop of fieldworkers and training managers.
Sponsored by the MRC Gambia Unit through the MRC UK, the workshop, held at the MRC unit in Fajara, attracted participants from 12 different countries in Africa including The Gambia.
The broad project goal was to develop framework for a generic training curriculum for health research fieldworkers across Africa.
Specific objectives of the workshop included sharing experience of fieldworkers' curriculum development efforts from different research centres in Africa, identifying generic and context specific modules from the various curricula presented, and understanding different training pedagogies and their appropriateness in delivering the various curriculum modules.
It was also set to create understanding of what is required to support the delivery of the curriculum, agree on the way forward and develop and harmonize a common curriculum that can be used to train fieldworkers in medical/health research institutions across Africa.
In his welcoming remarks on behalf of the MRC's director, Dr Momodou Jasseh said the workshop signified an important milestone in the strive to let African health research institutions collectively recognize and formalize the crucial role fieldworkers play in the success of health research on the continent.
He further reflected on the fundamental role of fieldworkers in medical and social research in Africa.
Citing his experience in field work, Dr Jasseh said: "I was a fieldworker about 30 years ago and as I progressed to this point in my career, I cannot remember occupying any position as fulfilling and challenging as that of a fieldworker."
Over the years, he noted, he had served his official supervisors and the community members who looked onto him for their source of information and support, but described it as challenging.
"I believe fieldworkers still find their role in medical and social research, which needs to be fulfilled," he said, adding that the role has become "increasingly challenging".
Fieldworkers are continually at the forefront and are always confronted with various scenarios across the continent with some extreme circumstances forcing them to share personal resources with the advantage of research participants, he stated.
Speaking on behalf of the health and social welfare minister, the director of health service, Dr Samba Ceesay, pointed out the crucial role fieldworkers play in facilitating research and ensuring quality data is widely recognised, although not internationally certified.
He applauded the MRC Unit and representatives from the various research institutions at the workshop for initiating and adopting a uniform curriculum for fieldworkers across the sub-region.
Fieldworkers, Dr Ceesay pointed out, communicate new and existing studies, mobilize follow-up participants and carry out relatively simple biomedical data-collection procedures.
He added that as professional leaders, they build relationships and stimulate local leaders to plan and implement projects as they also set the stage for individual projects to succeed, hence "without them, research cannot progress, and through them the continuity of projects is ensured even long after the fieldworkers have left the community".
Lifting up the profile of fieldwork has great impact on public health as more youths now consider it as noble profession, while working closely with local communities, he also said.
Such an engagement, he noted, gives fieldworkers a wealth of knowledge about the health concerns of each community. 
Read Other Articles In Article (Archive)