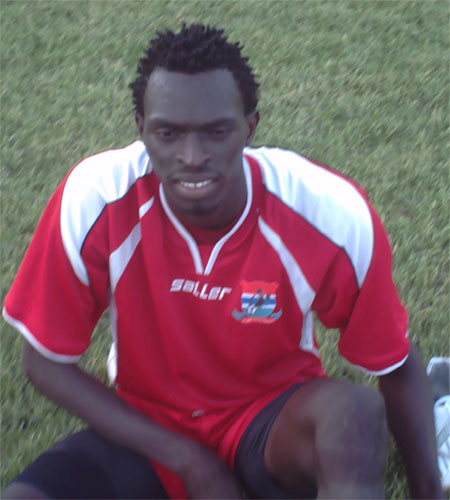 Assan Jatta widely known as 'Bierhoff' is arguably one of the fierce looking hit-men the country can be proud of if he is on his top form.
The 24 year old former SK Lierse International, started playing serious football with Vietnam Border, a club regarded by many as one of the most successful Nawettan clubs in Bakau few years ago. While at the club, he won a super cup trophy when his long-range free kick helped Border overcome neighbours Saul Samba in the final played at the Bakau Mini-stadium.
Assan Jatta was the youngest player in the Vietnam Border squad in 1996, but despite that the young forward was able to prove himself beyond reasonable doubt due to his goal-scoring magic which makes him one of the most popular players not only in Bakau but throughout the country. As a result of his creativity and great eye for goal, he was named after a German legend Oliver Bierhoff who was once regarded as one of the best strikers in world football.
Following a successful stint with Vietnam Border, Bierhoff made a quick move to The Gambia National U-17 Squad where he formed a great partnership with former team-mate Arthur Gomez.
He was invited to the Bakau Zonal team in 1999 helping Bakau clinch the zonal championships that year with a narrow 1-0 win over Serrekunda East at EastPark.
Shortly after winning the zonal trophy, Assan was invited to join the Bakau giants, Steve Biko FC. He made only one appearance for Biko in his first full season against Interior FC when his sublime Volley goal help Biko edged pass Interior 3-2 at the Serrekunda East Mini-Stadium.
Bierhoff further went on to establish himself as the club's leading goal scorer in 2001, 2002 and 2003 seasons.
Owing to his wonderful goal-scoring ability, Assan underwent a one-month trial with Belgian first division side Luckeren, which was under the management of the senior national team coach, Paul Put. He was unfortunate after failing to sign for Luckeren.
Despite failing to pen down Luckeren's contract, Assan returned home to help Biko escape relegation to the second division that season.
Even though he was unsuccessful in his first attempt to play abroad, Assan Jatta could be counted as one of the most outstanding strikers of the senior national team.
He finally made it when he was able to put pen to a 2 year professional contract with another Belgian first division club SK Lierse alongside his comrade Mustapha (Toubabo) Jarju in 2006.
But Assan Jatta was released after his contract with Lierse SK expired last summer when it was understood that the Belgian outfit were not prepared to extend the contract of the Gambian International while his compatriot  Mustapha Jarju went ahead to establish himself as a regular starter in the SK Lierse team.
Assan is currently playing for Steve Biko FC in the GFA first division thus expressing his desire to once again return to professional level.
Assan's most outstanding performance came during his time with the senior national team scoring many important goals for The Gambia, including a superb second half strike in Scorpions 2-1 victory over Guinea in Banjul during the African nation's cup qualifiers.
Read Other Articles In Article (Archive)