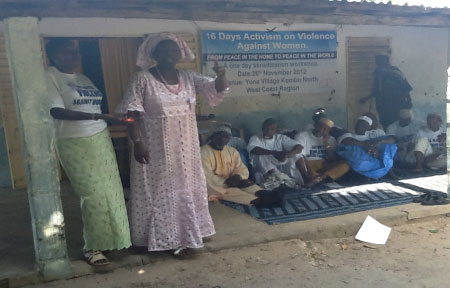 Pro-Hope International Gambia (PHIN Gambia) is celebrating 16 days of activism in the country by organizing a series of radio talk shows and sensitization campaign for local communities to address issues of sexual gender-based violence.
This year's campaign theme, 'From Peace in the Home to Peace in the World: Let's Challenge Militarism and End Violence against Women!', highlights the role militarism plays in perpetuating violence against women and girls.
The African Centre for Democracy and Human Rights Studies (ACDHRS) funded the PHIN Gambia's campaign, which is also taking place in Youna and its satellite villages.
According to Jawo Demba, PHIN Gambia is a registered charitable organisation established in The Gambia in 2005.
Speaking at a daylong sensitization held at Youna village in West Coast Region recently, Jawo said violence against women is still highly prevalent in the Gambian society, including domestic violence.
According to her, PHIN has been engaged in gender-sensitivity training, sexual and reproductive training and advocacy in various parts of The Gambia for over five years, particularly in rural Gambia.
Since 1991, each year, between November 25 and December 10, activists all over the world observe a 16-day of activism against gender-based violence to create intense awareness of the connection between women, violence, and human rights, including The Gambia, said Isatou Dibba, PHIN Gambia technical adviser, who is also resource person for the sensitization training for the local communities.
She said Pro-Hope International joins other organizations around the world to mark the period with series of programmes - radio talk shows, caravan show and community sensitizations in West Coast region, adding that the 16-day activism is to raise awareness activities.
PHIN Gambia, since its inception, has been working with grassroots communities, particularly women and youth, to address the issues of gender-based violence.
She explained that the 16 days of activism against gender violence is an international campaign. Participants chose the dates November 25 as International Day against Violence against Women, and December 10 as International Human Rights Day, in order to symbolically link violence against women and human rights and to emphasize that such violence is a violation of human rights.
The 16-day campaign has been used as an organizing strategy by individuals and groups around the world to call for the elimination of all forms of violence against women by raising awareness about gender-based violence as a human rights issue at the local, national, regional and international levels, strengthening local work around violence against women, and establishing a clear link between local and international work to end violence against women.
"We're doing the 16 days of activism against gender violence, minority women and girls violence, while making an appeal to governments to respond, protect, and prevent violence against women," Dibba said. "Women from many local communities in the country, especially young girls, are frequently targeted and abused by their own relatives."
She added: "In our homes every day, we are witnessing rape cases because girls are less protected and have little access to justice or to decision-making processes."
The 16 days of Activism against Gender Violence campaign is a United Nations incentive, Dibba said, adding that the South African government upholds the campaign, which also includes issues relating to violence against children.
Madam Dibba said the campaign will highlight the rights of women and children, which is paramount, and their fundamental human rights as protected by the Gambian Constitution.
Read Other Articles In Article (Archive)