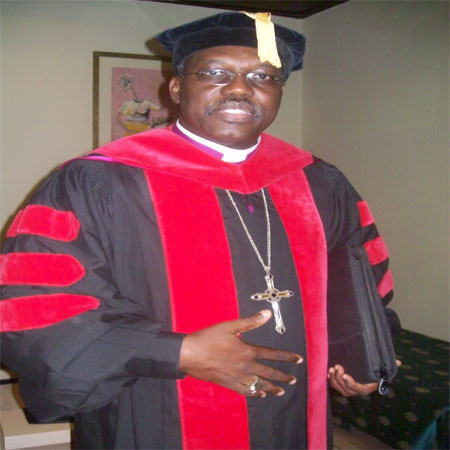 On the 28th of September 2012, during a special Synod of the West Africa Section of the Anglican Communion known as the Church of the Province of West Africa (CPWA), held at Suacoco, Bong County, Liberia, the Ninth Archbishop of the Anglican Church of the Province of West Africa was duly elected. The lot fell on the first Gambian Bishop – The  Rt. Rev. Dr. S. Tilewa Johnson.
The Anglican Communion is a group of autonomous episcopally governed reformed churches which are in communion with the see of Canterbury. There are about 80 million members of this Communion in over 800 dioceses grouped in 38 national churches or regional provinces, each headed by a Primate and Archbishop. The Church of the Province of West Africa (CPWA) is one of the 38.
The CPWA was established in 1951. From then to date we have had eight Primates of the CPWA:
The Most Rev. Leslie Gordon Vinning - (British)
The Most Rev. James Horstead - (British)
The Most Rev. Cecil Patterson - (British)
The Most Rev. Moses NCO Scott - (Sierra Leonean)
The Most Rev. Ishmael S. M. LeMaire - (Ghanaian)
The Most Rev.  Dr.  George D Browne - (Liberian)
The Most Rev. Dr. Robert G. Okine - (Ghanaian)
The Most Rev. Dr. Justice Y. Akrofi - (Ghanaian)
With the election of  Dr. Tilewa Johnson as the Ninth Primate and Archbishop-elect last week, he becomes not only the first Gambian Bishop but also the first Gambian Archbishop and Primate.
His functions, we understand, include but are not limited to:
i) Issuing of Pastoral Letters in his own person as well as with members of the Episcopal Synod
ii)  Speaking God's word to the Church and to the world as a representative of the CPWA in its corporate capacity
iii)  Exercising the spiritual and temporal leadership of the CPWA
iv) Visiting officially the dioceses within the CPWA whether at the invitation of the local Bishop, or of his own initiative 
The countries that make up the CPWA are Cameroun, Cape Verde Islands, Ghana, Guinea Bissau, Guinea Conakry, Liberia, Senegal, Sierra Leone and The Gambia.
Two Internal provinces within in the One CPWA have been established. The details of which will be the subject of another Press Release.
Read Other Articles In Article (Archive)