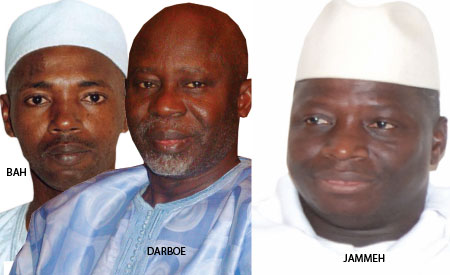 The Independent Electoral Commission (IEC) will today conduct nomination of candidates for the much-awaited presidential election in which incumbent President Yahya Jammeh will be seeking a fourth term of office, in just two weeks' time.
The nomination, to be followed by the 11-day official campaign period, is expected to be held at the Election House between 10-am to 3 pm.
While it is not yet clear which opposition parties are to put up candidates for the presidency, sources have told this paper that Ouasinou Darboe of the main opposition United Democratic Party (UDP) and Hamat Bah, who yesterday resigned from his National Reconciliation Party (NRP) to stand as an independent candidate, will be seeking the mandate of Gambians.
President Jammeh, 46, has won three consecutive past elections. In 1996, he polled 220,011 (55.7%); in 2001 he polled 242,302 votes (52.96%); and in 2006 he swept the polls winning 67.33% of the total votes cast.
He has vowed not to engage in any political campaigning in the coming polls, and promised that the election would be free and fair.
Jammeh attended Gambia High School in Banjul and passed the GCE 'O' Level Exams.
He joined the former Gambia National Gendarmerie Corps in 1984, and was among the national gendarmerie corps incorporated into the Gambia Army in 1991, after the institution was abolished.
He did military training in the USA from September 1993 to January 1994. After leading a coup in July 1994, and few weeks before the 1996 elections, he retired from the army as colonel to join the political race. Since 1996, he has received several awards up to now.
This year's election, he said, is between progress and retrogression, not between him and the opposition, stressing that those who want progress will vote for him.
Ousainou Darboe, 63, will be running for the fourth time as a presidential candidate. Born 8th August 1948, Darboe attended Saint Augustine's High School and Gambia High School before proceeding to study law in Nigeria, where he obtained his first law degree.
He obtained his Masters degree in law in Ottawa, Canada, and did an attachment at the Ghana Ministry of Justice. In The Gambia, he worked at the Attorney General's Chambers as state counsel and legal draftsman, from 1973 to 1980.
From 1980 to date he has been a private legal practitioner heading a private law firm. He joined politics in 1996, the year in which he first ran for presidential election, and obtained 141,387 votes (35.84%) and in 2001 he got 149,448 votes (32.67%). In the last presidential election held in September 2006, Darboe, who joined forces with Hamat Bah's NRP party, polled 104, 808 (26.69%) of the total votes cast.
Darboe has long said his priority is to improve the well-being of the farmers by buying their groundnuts promptly.
Hamat Bah, 51, will be seeking the presidency for the third time, but this time around as an independent candidate under the banner of the newly-formed United Front comprising four opposition parties, namely the NRP, GPDP, NADD and PDOIS.
Born in the village of Bantanto Sare Oldi in the Central River Region, Bah, who lost to Jammeh in the 1996 and 2001 presidential elections, first launched his National Reconciliation Party on 9th September 1996, when he started politics.
In the 1996 elections, Bah got 21, 769 (5.52%) of the total votes cast while in the 2001, he scored 35, 671 (7.8%) of the total votes cast.
A trained teacher and hotelier from the Gambia College and Acor Academy in Paris, France, respectively, Bah also holds a diploma in management.
He has also said that part of his priorities if elected will be to address the problem of housing for civil servants, youth employment, utilization of the River Gambia, restoring freedom of the press, open up the wavelength to enable Gambians discuss and debate on issues freely, restore the tourism sector to what it was before, and ensuring food self-sufficiency, among others.
Voting Process
Due to a high level of illiteracy, voters use marbles to vote rather than ballot papers, inserting a marble into the drum representing their candidate.
Elections are on the basis of a simple majority, and voting is by secret ballot.
After presenting their voters cards bearing their photographs, names and fingerprints for scrutiny, voters are given each one marble.
Each candidate has a separate sealed drum, usually identified by his or her photograph, party initials and symbols.
Candidates are allowed to have their agents at polling stations and later to witness the transportation and counting of the votes in Banjul and other divisional administrative centres.
A total of 796,929 Gambians have registered to vote in the elections, showing a massive shift from the 2006 election figures which stood at 670, 336 voters.
According to the election regulations, each presidential candidate should pay a deposit of D10,000 and must have 5000 signatories of which 200 have to come from each of the seven administrative regions.
Presidential candidates must be between 30 to 65 years at the time of seeking the presidency. He or she must also declare his or her assets, and must have paid all his taxes. They must also have completed high school.
Elections are held every five years.
Read Other Articles In Article (Archive)