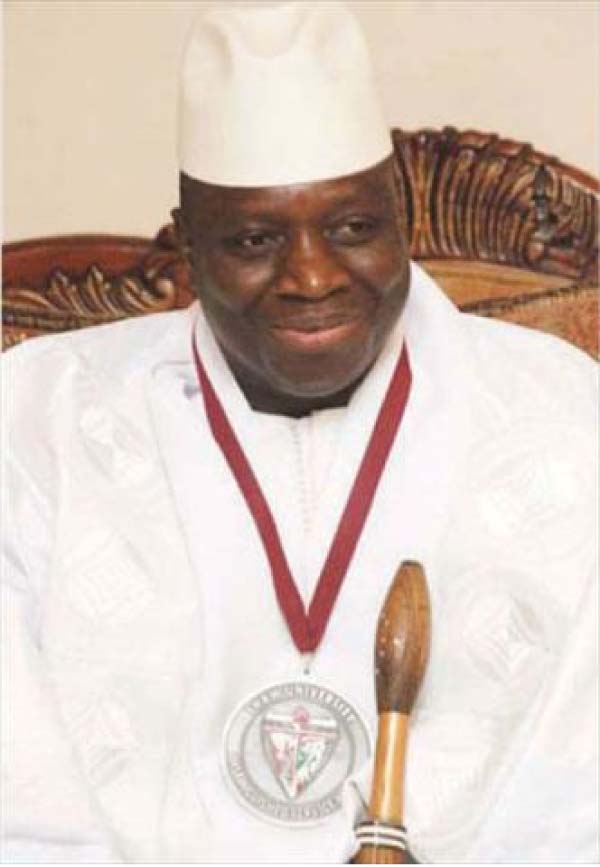 The incumbent president, Yahya Jammeh, will today appear at the Independent Electoral Commission (IEC) for nomination as a candidate in the 1st December 2016 presidential election.

He is the standard bearer of the Alliance for Patriotic Reorientation and Construction Party (APRC), which has been ruling The Gambia for the past 22 years.
Jammeh was born on 25 May 1965 in Kanilai village, in the Foni Kansala District of the West Coast Region.
He is of the same age as fellow contestants in the election, Adama Barrow, leader of the opposition coalition, and Mamma Kandeh of the Gambia Democratic Party.
He is married to Zineb Yahya Jammeh and they are blessed with two children: Mariam and Muhammed Jammeh.
Jammeh received his early education at Kanilai Primary School (formerly Saint Anthony's Primary School) and Saint Edward's Primary School in Bwiam from 1972 to 1978.
Due to his excellent performance in the Common Entrance examination, he earned a government scholarship to Gambia High School in Banjul, from 1978 to 1983.
He passed the General Certificate of Education (GCE O' Level) with credits in Geography, English, French, Biology and Physics. He also obtained passes in Chemistry and Oral English.
President Jammeh joined what was then the Gambia National Gendarmerie in 1984, and was promoted from private to sergeant on 1st April 1986 and in December 1987, to cadet officer.
He later moved to the Gambia National Army and was commissioned in 1989. On 29 September 1989, he was promoted to second Lieutenant and in February 1, 1992, he was later promoted Lieutenant.
He attended the Military Police Officer's Basic Course (MPOBC) at Fort McClellan, Alabama, in the United States of America in 1994 and obtained a Diploma in Military Science.
President Jammeh served under various military units in the Gambia national army: August 1984 to April 1986, special intervention units; April 1986 to December 1987, mobile gendarmerie special guard unit; 1987-1989, gendarmerie training school (escort training instructor); 1989-1990, presidential guard (in charge of president escort); January 1991-August 1991, officer commanding in the mobile gendarmerie; June 1991-July 1994, officer commanding the Gambia national army military police Yundum barracks.
In his military career, President Jammeh was entrusted with special assignments, notably: in 1990, he was the Special Security Officer for Visiting Heads of State of the ECOWAS Summit; August 1990, Officer in Charge of ECOWAS Peace Conference for Liberia; February 23 -24 1992, officer in-charge of close protection of Pope John Paul II and entourage, and in 1993, Special Officer in-charge of close protection of visiting ECOMAG field commander.
On 22 July 1994, at the age of 29, as a Lieutenant, Jammeh led a peaceful and bloodless coup and seized power from the former president, Sir Dawda Kairaba Jawara. In November 1994, he was promoted to the rank of Captain, and in 1996 he was promoted to the rank of Colonel. He retired from the army in 1996.
President Jammeh saw The Gambia through a two-year transitional period leading to the restoration of constitutional and civilian government. He founded the APRC party.
He was first elected president of the Second Republic on 27 September 1996 with 55.77 per cent. He was re-elected again in 2001 with 52.8 per cent; in 2006 with 67.33 per cent, and in 2011 with 77.54 per cent. He is standing for the 5th time.
President Jammeh, who is also a traditional healer, received many international awards and other accolades in different areas such as agriculture, health, and peace for his humanitarian work from FAO, AU and WHO, among others.
During his tenure, Jammeh took several measures. On 22 August 2012, he applied the death penalty, and in the same year, be broke relations with Taiwan. In 2013, Gambia withdrew from the Commonwealth.
In 2014, Gambia banned homosexuality and culprits could be jailed for life. On 23 November 2015, he announced the banning of FGM and culprits could be jailed for three years.
On 10 December 2015, President Jammeh declared The Gambia a Muslim state. The Gambia has a population of 1,782,859 of whom 96 per cent are Muslims.
July 6, 2016, Jammeh announced the banning of child marriage and the husband, father of the victim as well as the imam who ties the marriage and those who witness the marriage will be jailed for 20 years.
President Jammeh's hobbies include playing tennis, soccer, reading, animal rearing and keenly following world events.
Read Other Articles In Article (Archive)