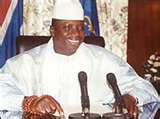 The Sports Journalists Association of The Gambia (SJAG), Friday showed appreciation to President Yahya Jammeh, by awarding him with a certificate of achievement for being the single-largest supporter and promoter of sports development in The Gambia.
The association deemed it significant awarding the President in recognition and appreciation of his stance and support to sports development in the country over the past 20 years.
The association also extended its appreciation and gratitude to the head of state and his government for creating the enabling environment for sport to thrive in the country, with various local and international activities.
The award was received on behalf of the President by the Youth and Sports Minister Alieu K. Jammeh, who alongside other cabinet ministers graced the occasion, held at the Kairaba Beach Hotel.
Speaking on the occasion, Youth and Sports Minister Alieu K. Jammeh commended the association and applauded the sporting fraternity of both The Gambia and Senegal.
On behalf of the government, he thanked the organisers - the Sports Journalists Association of The Gambia - for the august event, which was the 6th edition.
It was pertinent to note that over the period, since it started the event the association had not only recognised and awarded deserving sporting personalities in the country; "it has also uplifted the profile of our sports and given them all added energy and impetus in our drive to revive our sports," the sports minister said.
He added: "All over the world and throughout the history of humankind, people are rewarded in diverse ways for successes and exceptional achievements registered in their chosen fields of engagements.
"It is fitting that we are celebrating our own here in the sports sector," he noted.
The President is always in the forefront of such activities, he said, adding: "We could all recall when he turned 30 plus youngsters into millionaires overnight; as well the allocation of plots of land to our footballers; donations of motor vehicles, all for bringing glory to the country."
President Jammeh's "uncountable and numerous encouragements and support to all people in different trades are indeed worthy" of commendation, he also noted, thanking the SJAG for remembering and saluting their own Gambian personalities.
"We have a lot of reason to be happy about ourselves in our sports, coming from the recent past to now, ranging from football, to wrestling, boxing, athletics, basketball, volleyball, and other sporting disciplines," Minister Jammeh said.
He added: "We have noticed respectable successes and efforts attracting both national and international recognition:the U19 triumph in the invitational international football competition in Italy, referee Papa's tenacity at the world stage, Patrick Mendy winning the World Boxing Federation middleweight championships, Mariama T. Jallow and many other athletes and our very exciting marathons in Brufut, Bajana, Njawara, and Farafenni.
"The revival and gradual ascendency of our wrestling, basketball and volleyball, all indicating that there is talent abundance in this country in diverse areas of sports."
Read Other Articles In Article (Archive)