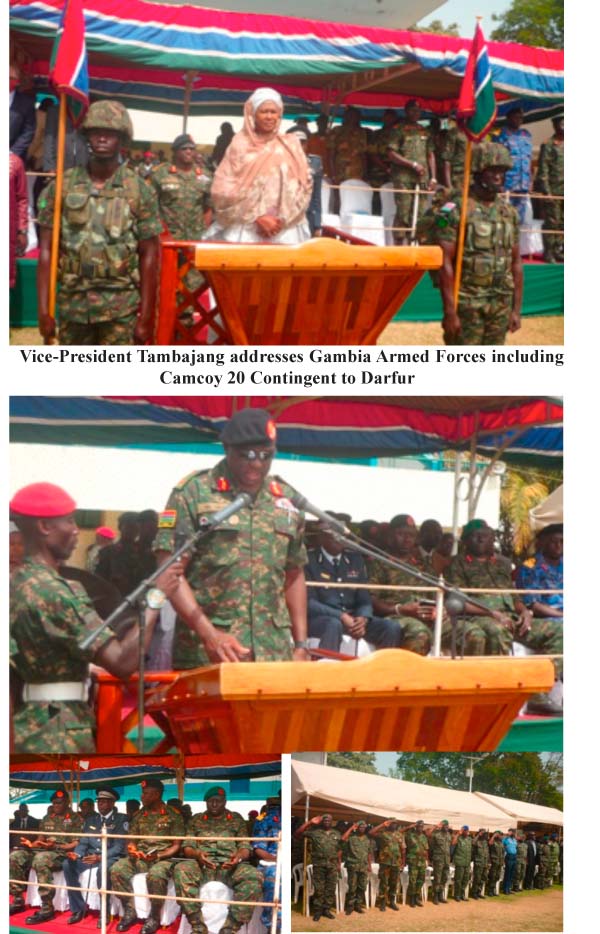 Fatoumatta Jallow-Tambajang, Minister of Women's Affairs and overseeing the Office of the Vice President, has said President Adama Barrow admires people in uniform and is ready to support them because they are the face of The Gambia.

Mrs Jallow-Tambajang said this yesterday at 22nd July Square, when delivering the keynote address on behalf of President Barrow on the occasion of the farewell parade of 208 personnel, including 12 male officers, six female officers and 19 female soldiers, under the command of Colonel Musa Trawally.
"Barrow has full confidence in you, and is ready to support all security forces," she told the country's security forces.
According to her, the selection of Gamcoy 20 contingent was based on the fundamental of human rights of equality, social justice, service to nation and exemplary character.
Mrs Jallow-Tambajang urged the contingent to respect their hosts, as well as their fellow peacekeepers from other countries when they go for outside duties.
The contingent members are not being sent to Darfur to enjoy, but to fulfill a mission, she added.
"The Gambia is a small nation, but we are proud to say we have something very unique, which is the human capital, and disciplined security apparatus who are the face of the country."
She also took time to thank all governments that contributed towards the ECOMIG mission.
Mrs Jallow-Tambajang also thanked Gambian soldiers for being loyal and committed to Gambians, and are ready to champion the cause of Gambians.
She saluted them for their unity of purpose, focus, determination and courage in leaving their families behind to explore the unknown land.
"The next contingent to go will depend on how best you perform in Darfur," he told the contingent, while urging them to avoid violence, saying if they are guided and take into consideration that they have mothers, wives, sisters, daughters or female relatives they would not commit gender-based violence.
Barrow is here for national unity, according to her, saying: "We should all put hands together as one people, one nation and build a better Gambia which is inclusive."
Barrow will ensure all institutions work independently, he further stated, adding that Barrow's government members are public servants, and people should not look at them as high ups.
She concluded by thanking the British government for their support, as well as being with Gambians throughout the struggle.
Lieutenant General Masanneh Kinteh, the Chief of Defence Staff, in his `farewell remarks to the contingent, expressed profound gratitude to President Barrow for the trust and confidence he has in him to lead the Gambia Armed Forces for the second time.
CDS Kinteh congratulated outgoing CDS Lt. Gen. Ousman Bargie for his service to the country and, in particular, for his outstanding leadership in overseeing the armed forces during one of the most trying times in the country's political history.
CDS Kinteh described peace as one of the deepest desires of mankind, adding that it has remained one of the basic yet elusive yearnings of the human race.
"The conditions that threaten peace and security are increasing daily, thus making it necessary to evolve new techniques and capacity that will transform them," he continued, noting that essentially, therefore, adequate training, logistics support and international partnership in peacekeeping operations with an increasingly more complex UN mandate is required to curb the threats that have, over time, changing dynamics with irregular opponents.
"It is, therefore, a responsibility to train and retrain our personnel to take up the noble task of peacekeeping as, in every part of the world, peacekeeping operations will continue in the foreseeable future."
According to the CDS, peacekeeping missions draw strength from diversity, and the contribution of the Gambia Armed Forces to peacekeeping worldwide has "grown significantly" in recent years.
Lt. Gen. Kinteh said that The Gambia has been steadfast in its commitment to help keep the peace in the region, and has stood by Darfurians throughout their conflict period to restore their hope and dignity.
Yet, in spite of the concrete achievements registered so far, the security situation in Darfur remains calm, but highly unpredictable.
He described their mission in Darfur as demanding and full of challenges, which is likely to increase with the anticipated developments in the near future, but which, however, also present some opportunities for solders to learn and develop both as individuals and as a team.
He advised the contingent to work harder to win the hearts and minds of their fellow peacekeepers, as well as the civilian population.
He urged them to stay focused, alert and fit at all times and execute their tasks in a highly professional manner.
They must be their brother's and sister's keeper, and always listen to and counsel each other in their day-to-day pursuits, missions and other commitments.
"You are to be part of the solution to the troubled region of Darfur, but not the problem; and you are expected to do everything possible within your limits to help build and keep the peace.
"You are to execute your duties within the mandate of UNAMID, observing the rule of law and paying due attention and respect for human rights and dignity."
Lt. Gen. Kinteh also urged the peacekeepers to behave professionally and avoid anything that will stain the good name of The Gambia, which it has earned overtime.
"Cases of misconduct or any behaviour that would dent the positive image of the country will not be tolerated."
Read Other Articles In Article (Archive)