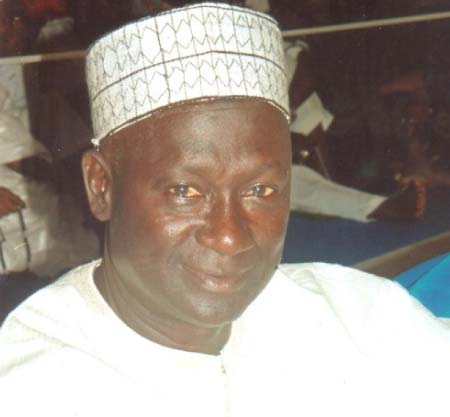 Alh Momodu Njie, also known as Biri, was among eight recipients of the Sports Journalists Association of The Gambia award meant to recognise his contribution to Gambian sports at the 4th National Sports Award held last Saturday at the SunSwing Hotel in Kololi.
Alhaji Momodou Njie, aka Biri Biri, Alhaji Mada, Magji, was born second son of Alhaji Momodou Ngoose Njie and Ajaratou Sainabou Njie - both of blessed memory - at Perseverance Street in Banjul Central.
He attended school at the Albion Primary School and St Mary's Primary School at Leman Street in Banjul before proceeding to Crab Island Secondary School where the might in the star was revealed.
He became an instant sensation in the school's football team for which He would become captain at the tender age of about fifteen years.
While in school, Biri was heavily recruited by many association football teams but he would later choose the Black Stars Football Club in 1963.
Following a stint with the latter, he proceeded to Black Diamonds and immediately established himself as a superstar and teams continued to vie for his services.
One veteran contacted for this piece had this to say: "Biri became an instant hit in the FA and top giants in the league at the time were all out to get this complete talent."He later played for White Phantoms and then onto Augustinians under the watchful eye of the late Koto Louis Kajack Prom before finally moving on with some other players to establish what is today Wallidan Football Club in 1968/69.
In 1963, Biri became the youngest player to ever play for The Gambia in what today is still remembered as the last time The Gambia beat Senegal by three goals to two with all three goals emanating from the football prodigy, Biri Biri.
He also played on loan in Sierra Leone and in the early seventies through the assistance of the late Alhaji Matarr Sarr became one of the first Africans to test the professional terrain with Derby County of England.
He proceeded to Denmark where he played for B1901 and Herfolge before proceeding to Spain to suit up for European powerhouse Seville, where to this day he is by far one of the most popular people and well respected.
He led Seville to its only FA Cup appearance in the 70s. He is still remembered for one of his brilliant gravity defying goals against Spanish national goalkeeper at the time, Arconada.
His twenty-six goals during his four-year career with Seville still stand atop in the record books for their all-time foreign legion of players.
He retired from professional football in 1981 and returned to his 'first love' Wallidan where he continued to play until his retirement in 1986.
Biri played for The Gambia national team through 1986, by far the most caps in Gambian history if not Africa as a whole.
Many a time, Biri had answered to national duty at his own expense and left every ounce of Gambian blood and sweat on that field.
There is no single team in our sub-region that did not specifically map out strategies to defend Biri back in the day. Despite the hard tactics that were employed both locally and internationally, Alhaji Momodou Njie is and will be the greatest that ever wore the Red, White and Blue and there is or will never be a debate on that. wcr.gm
Read Other Articles In Article (Archive)