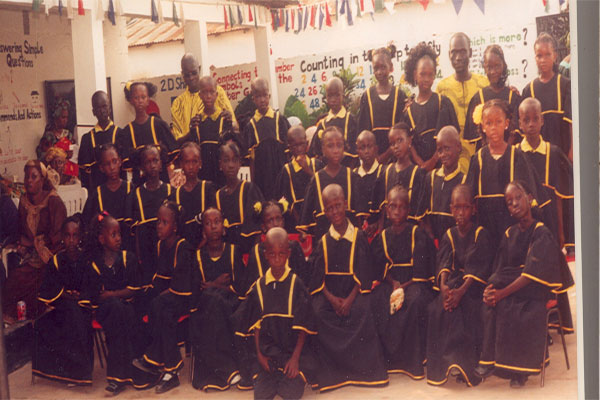 Mr. Momodou Y. Jatta has said that the present pre-school institutions are charged with the responsibility of developing the child up to the age of eight. This covers all aspects of child development from physical and emotional development to spiritual development.
This is achieved through the gradual introduction of the child to formal education. Mr. Jatta made his statement at the graduation ceremony at Gets Dumbarton Community School in London Corner. He was representing the guest speaker Mrs. Ndeban Joof Ndong, who is the principal education officer in early childhood development at the Department of State for Basic and Secondary Education, at the event.
He said that the Department of State for Basic and Secondary Education, within the 2007 - 2015 education policy and the draft early childhood development policy 2008 - 2015, pledge support to families and communities with regard to their childcare responsibilities. Mr. Jatta finally called on the government, NGO's and politicians to invest in education in order to realise the policy goals.
In her brief speech to the sizable gathering, the Headmistress of the school, Mrs. Caroline Chery Lusack, said that 31 nursery three students have completed their three-year, pre-education cycle at the school. She said that since the first inspection of her school in 2003 this year was the first time there had been a graduation ceremony. The graduants, according to her, are now qualified to gain entry into lower basic level schools.
Other speakers at the occasion were the former mayor of KMC, Francis Gomez, and Balla Musa Touray the school monitor for Cluster Eight.
The ceremony was chaired by Mr. John Ndow the headmaster of Serrekunda Lower Basic School. The vote of thanks was given by Lamin Trawally the deputy principal of Gets Dumbarton Community Nursery School.
Read Other Articles In Article (Archive)