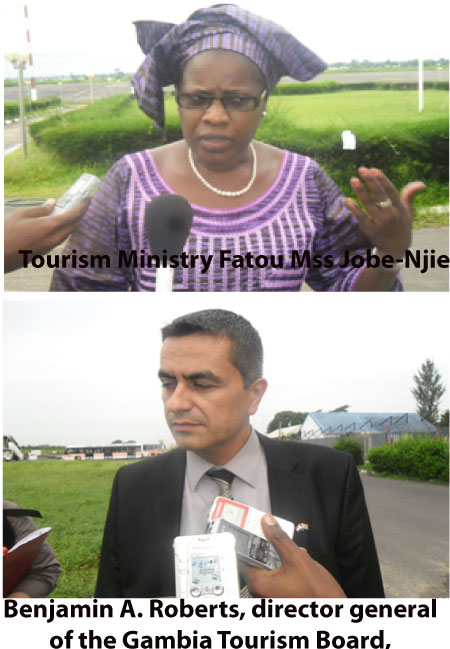 The Ministry of Tourism and The Gambia Tourism Board on Wednesday organised a dinner for Corendon Airline delegates who were in the country to explore the country's tourism potentials.
The reception, which took place at the Kairaba Beach Hotel, was attended by senior government officials from different departments and tourism stakeholders.
Speaking at the ceremony, Fatou Mass Jobe Njie said: "This occasion accords us the golden opportunity to welcome all our auspicious guests on this promotional flight to the Smiling Coast and at the same time express our appreciation and gratitude to the CEO of Corendon and team and all those who in one way or the other contributed towards the realization of the project."
This, she said, is considered as the biggest project for the Winter Season 2012/2013.
According to her, this is a dream come true and the introduction of this flight from a key European source market such as Holland, on the eve of the winter season, is indeed very symbolic.
"Our great aspiration is to raise Gambian Tourism to the highest level comparable to any internationally," she said.
"Indeed this additional flight from Holland will no doubt contribute immensely towards the realization of our vision to increase tourist arrivals to the Smiling Coast and at the same time enable us to penetrate the Dutch Market, which is considered a very dependable and strategic source market for The Gambia," she added.
Benjamin A. Roberts, director general of the Gambia Tourism Board, said realizing development, be it the wider economic aspirations or the aspirations of the Tourism industry, calls for greater collaboration and sacrifice from all and sundry.
"We must pull our efforts together, for it is the only way we will get more Corendons into the destination," he said, adding that the destination is at an inflection point,
He also said they at the GTB would do their best to register great successes in line with Vision 2020.
Read Other Articles In Article (Archive)