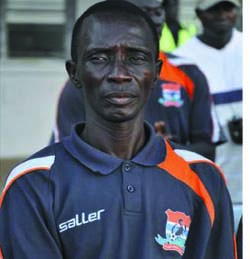 Embattled Gambia U-20 coach Lamin Sarr has once again reacted angrily to the poor preparation the Gambia national U-20 team has endured as well as some terrible refereeing, which he says caused the Darling Scorpions a disappointing campaign in Johannesburg, South Africa.
The Gambia U-20 team, also known as the Darling Scorpions, underwent unquestionably the worst ever preparatory programme in the country's football history, which saw them fail to take part in any meaningful international friendly match not to talk about an international training camp in the buildup to the Caf Under-20 youth championship compared to other teams in their group.
Sarr has made no secret of his dissatisfaction regarding the inadequate preparation by the U-20 team and wasted no time in hitting out on the country's football authorities for failing in their responsibility as they turned their back against a team widely rated by some football agents and scouts in South Africa as one of the most impressive sides in the eight-team tournament despite their failed attempt to achieve the desired results.
Speaking to a group of reporters at a press conference in Johannesburg shortly after The Gambia's 2-nil defeat to the flying Eagles of Nigeria on Sunday, Sarr said he attributed his team's unsuccessful campaign to poor preparation as well as terrible refereeing, adding: "The Gambia's preparation for this tournament is the worst preparation I have ever witnessed since my involvement with the U-20 team in as many years.
"Our boys have done extremely well; the problem we continued to face is the terrible preparation and bad officiating."
It was a completely different view from Lamin Sarr's opponent John Sam Obuh, head coach of the Flying Eagle, who told reporters that this qualification has absolutely boosted his team's confidence going into the semifinal clash which is something to be optimistic about.
"I remember telling Nigerians before the tournament that our ultimate objective is to qualify for the World Cup and now that we have realised our dreams, we will go back and discuss before we could set up another target in the tournament," Obuh said.
Read Other Articles In Article (Archive)