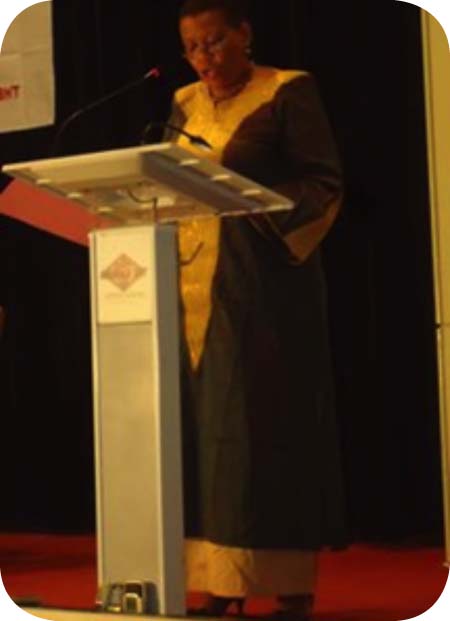 The African Commission Special Rapporteur on freedom of expression and access to information in Africa, Pansy Thakula, has called on politicians to "get out of newsrooms", and journalists and media practitioners to "stay out of politics".
She was speaking at the celebration of World Press Freedom Day held at the Kairaba Beach Hotel in Kololi organised by the Gambia Press Union, UNESCO and Office of the UN High Commissioner for Human Rights (OHCHR) on Sunday.
Addressing the media fraternity, Pansy Thakula said: "My message today is that in order for freedom of expression to thrive. In order for the media to be allowed to do its work to inform the people, my message is that politicians must get out of the newsrooms and allow journalists and media practitioners to practise their profession with the code of conduct and, at the same time, journalists must also stay out of politics."
"As we commemorate this day, we must remember all journalists who have died in the line of duties to keep all of us informed, to remember all those who continue to receive persecution, harassment and intimidation in all parts of the world including The Gambia simply for keeping all of us informed. The struggle continues," she said.
The UN Special Rapporteur on Freedom and Access to Information in Africa said the right to freedom of expression and access to information is entrenched in article 19 of the charter.
In the last couple of years, she has served as UN Special Rapporteur, and has tried to the best of her ability, and with very little resources, to advance the course of freedom of expression and access to information in Africa.
She has done two important projects in an attempt to get as many countries as possible to adopt access to information laws, because without information "we could not exercise our rights" and that "we can only exercise our socio-economic rights if there is information".
It was important for her to prioritize this project, and she was pleased to report that, when they started the project a few years ago, only five countries had adopted access to information laws on the African continent, but the number had now increased, which, according to her, is progress.
She said the second project, which was more difficult, was trying to lobby governments of the continent to decriminalize all laws that restrict free expression, such as criminal defamation, publication of false news, and sedition laws.
They know that most journalists and media practitioners on the continent continue to suffer under these laws, she said, adding that the laws are often used by our governments to suppress legitimate criticism.
She disclosed that in December last year, the African Court on Human and Peoples' Rights gave judgment in a seminar case of Burkina Faso versus Conateh, in which the Court held that criminal defamation is in violation of article 9 ofthe African Charter and the international convention on civil and political rights.
"I invite and encourage all of us to use that judgment to change the scope of media freedom in our continent," she said.
She further disclosed that with their partners, they would be launching a declaration on freedom of expression and responses to conflict situations, and in the declaration they express concern about attacks on democracy and freedom of expression by both state and state actors.
They also expressed concern about the continued killing of journalists in the world, physical attack on those exercising freedom of expression, which often leads to self-censorship in separation of open debates about public interest, she said.
She said they have noted that due to attacks on freedom of expression, journalists would exercise self-censorship by driving news underground.
In that declaration, she added, they also expressed concerns about unjustified restrictions on freedom of expression, which does not occur only in Africa but a phenomenon they see in other parts of the world.
Ms Thakula said Africa is witnessing unprecedented terrorist attacks currently taking place in a number of countries on the continent, including Niger, Nigeria, Somalia, Kenya and Cameroon.
The commemoration of the day took place against the backdrop of xenophobic attacks in South Africa, she noted.
Read Other Articles In Article (Archive)