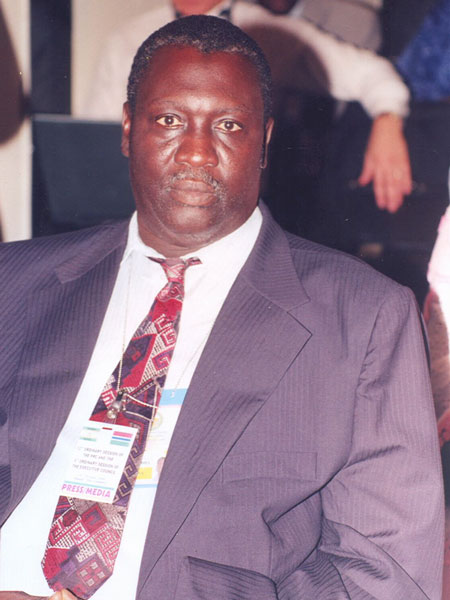 Point Boss to Cover U.S Election
As the race for the Oval office in Washington toughens, the co- publisher and managing editor of The Point Newspaper, Mr Pap Saine, will leave Banjul today (Tuesday) to cover the November 4th U.S Presidential election. 
Mr Pap Saine, alongside four other journalists from Africa, will join other international journalists who have started descending on the U.S to closely follow the campaign trail and the voting processes, under the patronage of the U.S State Department.
A well-grounded Gambian journalist, Mr Saine also carries a prestigious feather on his hat as the dean of Reuters News Agency for West and Central Africa. On Election Day, Mr Saine and his counterparts will visit the polls in Arizona, have briefings and attend an election night watch party in Phoenix.
The journalists will fly out of Phoenix on November 6th. During the tour, they are expected to meet with university professors, local election officials, Obama and McCain supporters, the local Republican and Democratic parties and other speakers.
They are billed to possibly attend the rallies of the two main contesting candidates - the Democratic hopeful Senator Barack Obama and the Republican aspirant Senator John McCain - depending on schedules.
In a short interview granted to this paper, Mr Saine expressed gratitude to the State Department and the U.S Embassy in Banjul for the opportunity, saying, "I am humbled by this great opportunity to cover this important event in American history. This is a unique election in all its aspects. I have seen and covered many elections around the world but this particular one is exceptional and its fascinating flourishes are unprecedented in America's political history and democracy. It sends signals and teaches lessons of paramount importance, especially at a time when the world's most powerful economies are striving to steer themselves out of the global financial crisis, compounded by global food shortage," Mr Saine noted.
"But America's case makes this even more appealing, as people continue to face enormous challenges, such as employment, the economy, mortgages, healthcare, security, and the quest for the resurrection of the American dream. I think I am just fortunate to be part of this history and for that, I shall be eternally grateful," Mr Saine observed.
Read Other Articles In Article (Archive)