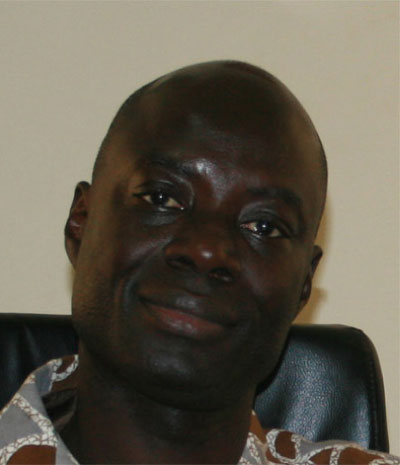 Peter Gomez can easily be described as one of The Gambia's most successful sports broadcasters in history.
His success stories in 2010 and beyond stands among the best of sporting personalities in the country.
Peter won the 2010 Most Outstanding Individual in Support of Sports accolade of the Sports Journalists Association of The Gambia (SJAG) on Saturday 2 July 2011 beating Beatrice Allen and Fr Joseph Gough, who were also nominees to the crown at the SJAG's prominent national sports award event held at the Jerma Hotel in Kololi.
Peter's most well known contribution to the nation's sport still remains a legacy in Gambian sports reporting.
He continues to be the chief producer and presenter of arguably The Gambia's most popular, most respected and most listened to sports programme on Gambian airwaves, Sports File, a programme he founded even long before he took over West Coast Radio as proprietor and managing director.
Sports File serves as the number one reference point for local and international sports attracting audience from all parts of the globe, with Gambians from Africa to America, Europe to Asia tuning in to the programme every Monday evening.
2010 contribution 
In 2010, Peter spearheaded a highly successful coverage on FIFA World Cup, the first on African soil, and being a strong believer of the popular tag "The African World Cup or The world Cup for Africans", Peter initiated the month-long coverage in which many Gambians felt like it were their own national team that was taking part, by using his strong connection with the BBC to bring live commentaries from South Africa and up-to-the-minute updates on actions on and off the pitch.
Apart from the Sports File success story, Peter has spearheaded the introduction of three other sports programmes purely on national sport, the long running "Africell Sports Report", "Sports Talk" and the more recent one called "This Week in Gambian Sport."
He also used to send his staff for international coverages attending all qualifiers and tournaments involving Gambian National Teams in the previous years especially in 2010.
Previous Achievements
Peter continues to mentor and encourage young and upcoming sports reporters in his institution, some of whom have grown to become well respected and senior sports editors in other media houses, and some within his own institution, who have undergone Peter's tutorship, are following the footsteps of the veteran broadcaster. 
Peter also heads the famous GAMBIA SPORTS ONLINE newspaper, which does not only serve as a reservoir of news and knowledge on Gambian sport to its wide readership but also as source of news for some media outlets in the country.
Read Other Articles In Article (Archive)