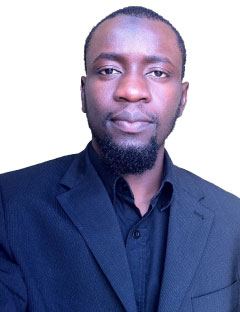 Hello and a warm welcome to yet another scintillating edition of Personality of the Week, your weekly column aimed at bringing prominent Gambian top notches and achievers into the limelight.
As stated in our previous editions, this column has and will continue to bring you profiles of the giants in today's Gambia most especially women.
 In today's edition, we bring you the profile of a man who while sighting him on the move, coupled with his diverse educational background, one clearly reads the great handwritings on the wall, "the youths are indeed on the right track towards national development in The Gambia"; a young man who has symbolised, and in fact proved beyond reasonable doubt that loyalty and commitment to the development of ones country pays.
Having already left an indelible mark in all corners of society, there is no doubt that this young man has today earned the respect of many Gambians owing to his indisputable loyalty, honesty, simplicity, handwork and commitment to duty.
His ability to succeed has been established beyond any doubt. He could pass unnoticed save for the aura of greatness that speaks more of him. His impressive track record coupled with his diverse educational background has prepared him to face the challenges of life. It has also put him upright as the one of the greatest citizens that this country has ever produced.
This great young man man worthy of being recorded by the present and future histories of the Gambia and Africa in general is no other than Mr. Seedy S Jaiteh.
Son of the famous Business tycoon Salifu K. Jaiteh, a household name in the Gambia, Seedy's style of life gives surge and confidence and spurs growth and greatness in the lives of the willing.
Through his landmarks, he has made vivid the fact that the youth of this country are the future leaders and have a very important role to play towards the development of not only this country but also the world at large.
His journey to greatness, characterised by the rare virtues of honesty, hard work and discipline, is noteworthy. As a role model for all, Seedy's capabilities, skills, high sense of discipline and strategic initiatives put him upright as a corporate citizen.
Born Twenty-five years ago (1987) into a highly educated and respected family, Seedy's flair for quality and excellence is easily noticeable because for this young man, business and pleasure are two different things.
He set forth his educational journey at Marina International School from 2001 to 2005 where he proceeded to Bradford College in London.
At Bradford College, Seedy graduated in the year 2007 with a Level 2 Certificate in 2D Computer Aided Design.
Still at Bradford College, Seedy pursued a Higher National Diploma in Construction from 2007 to 2009 (twenty modules, achieved five merit, eleven passes and a distinction).
From Bradford College, Seedy proceeded to Leeds Metropolitan University where he obtained a BSC (Hons) Construction Engineering Management from 2009 to 2011 Dissertation project (graded 61%).
From 2005 to date, Seedy works with ACCA Examination Board London every June and December as Invigilator and assistant supervisor for ACCA examinations.
There, he gained skills working as an invigilator and assistant Supervisor. This entails organising and coordinating a group of four invigilators and 200 students. It also required allocating shifts, breaks and dealing with invigilators queries, plus invigilators payment. 
It's his responsibility that all students are given the correct paper and to make sure that all the exam papers are collected and taken to my senior.
Seedy also worked with as a porter with the BRI Hospital Bradford in London from 2001 t0 2006, where he made sure that goods are delivered on time and maintained good relation with co-workers and patient.
From 2006 to 2008, he also worked as a checkout assistant with the Sainsbury, Leeds where he assist customers by serving, locating and advising them on items, plus replenish and rotating items on shells.
Seen as a delight to behold, Seedy's position of responsibility history demonstrates that he is a natural organiser. At a previous job as part of a team member, he participated in a team project, and successfully setup a new system which they devised to meet the employers specifications.
This was adopted by the company. He also took a lead in contacting the employer and encouraging them to take part. The project developed his team building and negotiation skills, an experience that will no doubt be of benefit to any construction firm.
With honest and humbleness, Seedy decided to come back home to contribute his quota in nation building and help assist in achieving vision 2020.
While he enjoys reading, computers, organising events and educational TV programs, this young man is keen to work in a profession related to building and infrastructure, where he can make use of the knowledge and skills gained through his degree.
This young man, Seedy has no doubt achieved greatness in all respects and thus deserves to be portrayed as an extraordinary young man with a difference.
Read Other Articles In Article (Archive)