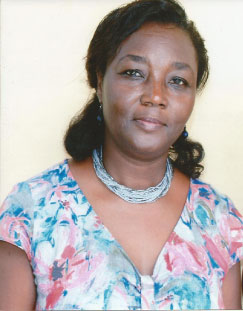 Welcome to another edition of Personality of the Week, the weekly column which profiles Gambian and non-Gambian men and women of interest.
In today's edition, we bring you the profile of a woman who need no introduction into the skills training industry of our recent days.
She is Mrs. Jean Able-Thomas the Proprietress of Fajara Skills Development Centre situated at No. 5 Boulevard in Fajara. She is an erudite educationalist and one of The Gambia's most respected women.
Of course some are born great, some achieve greatness and some have greatness trusted upon them but for this young woman, Mrs Jean Able-Thomas, a shining example in today's Gambia, she has achieved greatness.
In the history of any country, successive generations must have individuals who serve as pillars of society, talk of the country, and of course some extraordinary men and women who provide inspiration to young upcoming and promising nationals of the state. Mrs Able-Thomas belongs to this phylum of people in today's Gambia.
Her impressive track record coupled with her diverse educational background has prepared her to face the challenges of life.
Mrs. Jean Able-Thomas, who grew up at No. 3 Hagan Street in Banjul under the strict disciplinarian person in the name of Mrs. Rachel Thomas former secretary to the late Lawyer ML Saho, attended St. Joseph's primary and secondary school in Banjul where she completed her form 5 in 1977.
She proceeded to Auchi Polytechnic  in Nigeria to do a two year basic course in Fine Arts  and after completing the two-year course,  she came back home in 1981 to start business.  
Fortunately, she travelled few years later with her husband, Dr. Uriel Able-Thomas to Newcastle Upon Tyne, United Kingdom, where she used the opportunity to learn other skills such as hairdressing, beauty therapy, management and finally, adult education at Durham University.
She described Mrs. Rachel Thomas as someone who really nurtured a sense of discipline in her (Mrs. Jean Able-Thomas). Though during her early age she did not find it enjoyable, it has made her what she is today.
"I remembered as a child before going to school, you had to go to the market and clean the house. To go to school, we had to walk from Hagan street to Box bar which is quite a distance. Today most parents have a car to drive their children to school and there is no form of exercise for them," she told The Point while narrating her life experience, adding that it is all part of life, as it has helped to give her a sense of discipline.
According to Mrs. Able-Thomas, the present day generation has everything at their finger tips, unlike the previous. "As a child, on Fridays after school, it was my responsibility as the eldest to conduct the family business, which was baking and selling cakes. This helped to nurture the entrepreneurship skills in me".
She stated: "At the end of the day I can remember what my grandmother, the late Mrs. Marian Phillott told me, 'Jean Look for something to do which would benefit you in the future and provide time to look after your kids".
She further narrated that while in the UK, she received letters from various friends, asking for her help financially. This, she said, made her realize that imparting a skill into folks back home would help to sustain themselves financially.
"My dissertation was based on empowering women in the Gambia," she said, adding that after she returned from the UK, she was given a land, where she built a bungalow and started her current training centre 'Faraja Skills Development Centre'.
Due to the expansion in the number of students, the center moved to 5 Atlantic Boulevard.
"Looking back, I would say life was not easy, there were tough times but we managed", Mrs Able-Thomas noted.
Fajara Skills Development Centre, she explained, started with two (2) students' enrollment from National Youth Service Scheme (NYSS), with some private students, numbering six (6) students in the year 1999, through the help of Mr. Sheriff Gomez.
About her vision at Fajara Skills Development Centre, Mrs Jean Able-Thomas said her vision at the FSDC is to increase the current scope of the center by initiating and conducting programs which not only meet the needs of young people and empowering them, but also providing them with the prerequisite skills that would make them to be gainfully employed or embark on their own trade to generate income.
Partnering with institutions like the Young Men Christian Association (YMCA), National Youth Service Scheme (NYSS), Action Aid, and with funding from UNDP and lately from Gamjobs, FSDC according to statistics, have graduated 850 students from 1999 to date.
These graduates can be found all over the service industry within Greater Banjul Area and beyond, working in salons, hotels and fashion designing shops.
It is part of Mrs Jean Able-Thomas future plans to own a plot of land for her institution. "It is joy for me to see people walking out of my institution armed with a skill" she stated. 
On her message to the younger generation, Mrs Able-Thomas said: "Cherish what you have and be focused on your education. Every person has the ability to succeed if armed with a skill, so I encourage you to develop whatever talent you possess". 
She commended some of her former school teachers such as Mrs. Adele Sock, her fine arts teacher at St. Joseph's High school, Mrs. Ndure, late Mrs. Shingle, among others, who really contributed immensely to the success in her life.
Meanwhile, Mrs. Able-Thomas, was last week awarded by Mrs. Rosmand Luke, the founder and Chief Executive Officer (CEO) of All Women Empowerment and Development Association (AWEDA), an international association based in Canada.
The award according to Mrs. Jean Able-Thomas was based on the contribution she is making towards the development of the youth in The Gambia. 
Read Other Articles In Article (Archive)