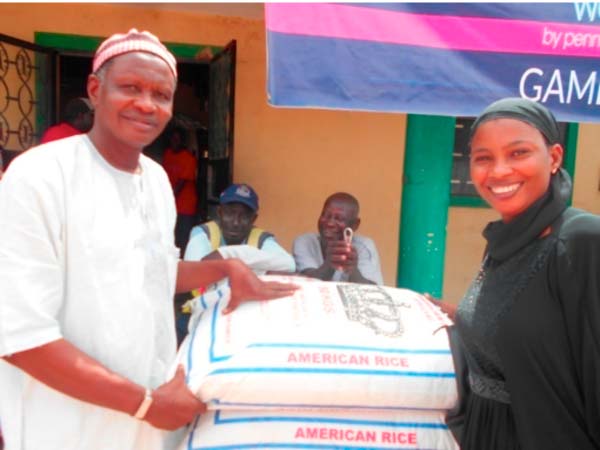 "Feed our world is a programme under penny appeal which is a Muslim charity operating in The Gambia."

The Muslim charity over the weekend distributed food aids to the needy and religious leaders as well as mosque heads in the country.
Penny appeal Gambia office is affiliated to Penny Appeal International based in the United Kingdom.
The food items that included rice, sugar and oil were distributed in two fold; small package which included 180 bags of 25kgs, 5kg of sugar and 5litre gallon of oil while the big packages included 18 bags of 50kg of rice, 50kg of sugar and 20 litre gallons of oil.
Speaking at the presentation ceremony, Lamin Jobe, head of admin and finance at Penny Appeal Gambia office, praised the Almighty Allah for giving them the ability and resources to support the needy Muslims.
Mr Jobe gave a brief background of Penny Appeal, saying the Muslim charity with its headquarters in the UK operates in 36 countries all over the world. The Gambia is the main office responsible for affairs of all the West African countries, he said.
Mr Jobe also stated that Penny Appeal has been operating since 2014.
He spoke at length of the significance attached to the holy month of Ramadan, saying it is a month of sacrifice and sharing, helping needy people as well as reaching out to others who are less privileged.
Mr Jobe emphasized that Penny Appeal is out to give support to needy Muslims and in doing so, they provide rice, sugar and oil as well as 'Ataya' to needy Muslims during the holy month of Ramadan.
He advised the lucky beneficiaries to make the best use of the food aid as others are also in need of it.
For his part, Buba Saidykhan, head of social welfare at Penny Appeal Gambia office, said the gift was part of their annual Ramadan package to support the needy families in The Gambia and West Arica.
He said Penny Appeal is doing the distribution through a programme called "feed our world".
He said the objective was to support the most vulnerable people in society.
Also speaking, a beneficiary, Alh Bubaccar Manneh of Brufut commended the donors for the kind gesture, noting that the items would reach those that need it most.
"We are very appreciative of the gesture," he said.
Karafa Ndure from GPF, also a beneficiary, hailed the staff of Penny Appeal The Gambia office for making the event possible.
He described the gift as very important and timely considering that this period is the holy month of Ramadan.
Jim Touray and Samba Bah, religious leaders, both commended the donor for the magnanimous gesture and assured them that the food aid would be properly utilised.
Read Other Articles In Article (Archive)