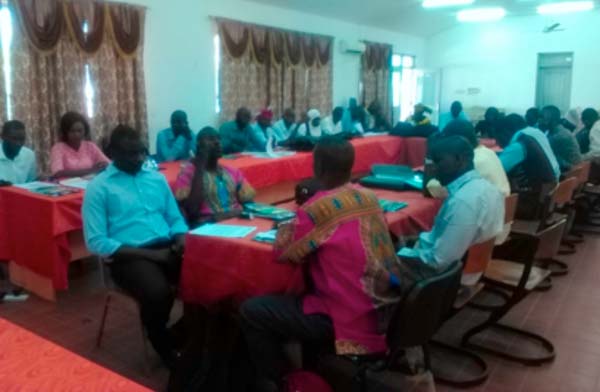 Education for all Campaign Network the Gambia (EFANet) with support from the Civil Society Education Fund (CSEF) yesterday commenced a three-day capacity building training for their member civil society organisations (CSOs) at the Regional Education Directorate 1- Kanifing Conference Hall.

The three-day training will also strengthen the capacity of the EFANet members on leadership and organizational management, advocacy skills and techniques, monitoring and evaluation, the MOBSE education policy 2016-2030, and the sustainable development Goal 4.
In her opening remarks, EFANet Board Chairperson, Zono Jammeh, said the training is in line with her organisation's mission to mobilize, build and strengthen the capacity of its members to advocate effectively for the realisation of the educational goals for all in The Gambia.
She said the three-day training will give the participants the opportunity to consult and share advocacy strategies as well as information and best practices with one another, saying: "It will also help build the capacity of our members in various areas of advocacy."
The EFANet chairperson also extolled the cordial relationship between the Ministry of Basic and Secondary Education and EFANet, adding: "Our cordial relationship with MoBSE goes to show that government and civil societies can work in mutual agreement even though we are supposed to be their watchdogs."
She said further: "We all know what is enshrined in the country's constitution concerning education, which is free education but the question is: when is the compulsory part of it going to be applied? Are we as members of the EFANet coalition advocating for the compulsory part to be enforced?"
She called on government to invest more on education to ensure that, for instance, the child in Nyakoi Lower Basic School is offered the same type of curriculum that the child at Marina International is enjoying.
The national coordinator of EFANet, Siyat Gaye, said education being the business of everyone cannot go without the involvement of the civil society.
He said the meeting was also in response to their mandate to bring together organisations that are advocating and promoting education in the country.
"We deemed it fitting to come together and discuss on how we can advocate for the promotion of quality education for all," he said.
"Access to education is more realistic now, but sustainability remains the biggest challenge in the country's educational sector."
For his part, the programme specialist for education in ActionAid, Bakary Fadera, said it is paramount for the parties advocating for education to engage the country's politicians in the best way so they could also put more focus on the education sector.
Read Other Articles In Article (Archive)