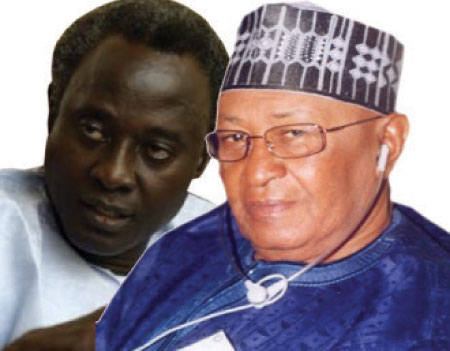 The opposition Peoples Democratic Organisation for Independence and Socialism (PDOIS) has written to the Chairman of the Independent Electoral Commission, Alhagie Mustapha Carayol, over comments he (Carayol) made in a recent television broadcast about the opposition and the forthcoming Local Government Elections.
In a letter signed by its Secretary General, Halifa Sallah, PDOIS said electoral reform before participation is the only logical strategy that could guarantee the opposition genuine electoral contests that are fraud, arrest, violence and intimidation free.
Below is the full text of PDOIS's letter to the IEC Chairman:

SUBJECT: COMMENTS ON THE OPPOSITION AND THE LOCAL GOVERNMENT ELECTIONS
The Central Committee of PDOIS has followed your comments with keen interest. The Gambia Radio and Television Services (GRTS), the state media, which we have no access to as a political party to express divergent views, had broadcast the views you expressed during your regional sensitisation tour, that it is more prudent for all political parties to participate in elections and concurrently advocate for electoral reform than not to participate in the polls. We have taken note of your opinion. You are also understood to have given assurance that there will be electoral reform before a new electoral cycle begins in 2016.
In our view, the fact that you have publicly acknowledged the need for electoral reform and also gave assurance of its inevitability in due course, confirms that the decision of the Opposition to extend Reverend Jesse Jackson's Goodwill mission to the Gambia, which was taken ownership of by the ruling party and Government, to include an invitation to him to play an overarching role of  a non state mediator between the ruling party and the opposition, to ensure a level ground for multiparty contest in the Gambia, is not a misplaced exercise in political adventurism.
Let me now focus on the point at issue, that is, participation or lack of participation in elections pending electoral reform.
Mr. Carayol, few people would dispute the fact that electoral reform is long overdue. How and when it is to be initiated and effected is the million dollar question. The two tactics and strategies before us are to either participate in elections while advocating for reform or make participation conditional on the implementation of a minimum reform programme. We have seen the need to initiate this public debate on tactics and strategies to effect electoral reform so that we would not be accused of boycotting elections.
Mr. Carayol, PDOIS is a party that emerged during the first Republic and has always been committed to the principle of holding free, fair, transparent and genuine elections that would give rise to the undiluted choice of the people, irrespective of ideological orientation. This is why we took a case to the African Commission in 1990 which we won and the coup makers promised in 1996 that they would establish an Independent Electoral Commission and would introduce street names and compound numbers in registers of voters during registration to curb ghost voters in urban settlements with hundreds of thousands of residents. You are a witness to the test cases our agent took to court after the registration of voters in 2011 to have unqualified voters deregistered. Almost all the cases were won and the others were lost for lack of proof of service. No effort was made to name and shame the fraudulent attesters of the application forms of the claimants who were reprimanded for fraudulent registration. No initiative has been taken to honour the promise made to the African Commission since its Grand Bay decision of 1996.
Suffice it to say, the Independent Candidates and one opposition party, the NRP participated in the National Assembly Elections of March 2012. The main group of opposition parties, the Group of six, was excluded by your refusal to respond to our minimum demand for electoral reform, which entailed the simple holding of a stakeholders' meeting to agree on a memorandum of understanding that would underscore mutual commitment by all stakeholders to preventing Government resources, public servants, members of the disciplined forces and those in the security apparatus from aiding the campaign of the ruling party candidates. The refusal to implement this minimum commitment to electoral reform and broadcast it for public consumption is what prevented the Group of six from participating in the elections.
The consequence for Gambian democratic evolution is devastating. Out of 48 Constituencies with 796,929 registered voters only 308,000 voters resident in 23 Constituencies were entitled to vote in the 2012 National Assembly elections. Out of this number, only 154, 950 voters cast valid votes.
Despite the advantage of being backed by the Executive that used the state media and security apparatus to campaign for ruling party candidates and issued derogatory remarks and threats to Independent Candidates, the ruling party could only pool 80,289 in the popular votes, while the Independent Candidates pooled 60,055 votes. The NRP had 14,606 votes. The APRC votes exceeded that of its opponents combined by 5628 votes. However because of the absence of proportional representation, the opponents control only 5 seats in parliament. The rest is controlled by the ruling party. 
The NRP, the only opposition party that participated, won only one seat because it tried to grab political office from the burning fire. During the voting, the spokesperson of the Party, Mr Dulo Bah, was arrested with others for allegedly threatening violence to stop voters who they considered to have fraudulently acquired voter's cards. He is now on trial and has been rendered completely silent since the time he was released on bail. Needless to say, one of the Candidates for Sabach Sanjal Ward had his baptism of fire and was remanded in custody for sometime before being subjected to trial and was subsequently convicted and fined. We had to step in to clarify issues to safeguard many innocent villagers from Sabach Njayen from having criminal records because of the circumstances that compelled them to give solidarity to their ex-Councillor.
Mr. Carayol, just as few strong Independent Candidates could win few seats in Parliament that would not threaten the Parliamentary superiority of the ruling party, we in the opposition do have few strong candidates who could have won elections and leave the ruling party to maintain its parliamentary superiority because of unfair electoral practices.
However, to us politics is not a football march and candidates are not engaged in gambling. Politics provides the instruments for good governance in order to promote the liberty and prosperity of a people. Parliaments are oversight institutions that should serve as monitors and regulators of executive power so that it is not prone to abuse and impunity. Any executive power that cannot be criticised, scrutinised and restrained becomes absolute and autocratic. Hence the duty of the opposition is to strive to control parliamentary majority or at least occupy a quarter of the seats to be able to block unwarranted constitutional amendments. This is only possible if there is genuine election. Empirical evidence has shown that participating in elections that are not genuine has not yielded the desired results to have an Independent National Assembly.
NRP did participate in the National Assembly elections but when they tried to stop the malpractices they were accused of taking the law into their own hands and are now transformed into the law breakers instead of being elected to be law makers.
We in PDOIS know better than to go to the boxing ring with Kid's gloves. We cannot effect political reform by participating in elections that condition us to take the law into our own hands in order to win the battle in the field. You are quite conversant with the terrain. You do remember how I connected you by mobile phone to the wrangling at one of the polling stations as Ministers with state vehicles and their security personnel confronted the NADD candidate who was trying to ask them to abide by the election laws during the by election in Wuli East. The case of a Chief breaking the wind screen of a NADD candidate's vehicle is still pending at the Basse police station. We have found it to be politically counterproductive to follow such cases since the family members involved end up galvanizing around the ruling party in support of relatives who are taken to court by the opposition.
Mr. Carayol, your proposal for the opposition to participate in elections and concomitantly put up a fight for electoral reform is asking us to embrace a process that amounts to an exercise in futility. You are fully aware that Candidates do not contest elections with empty hands, Deposits, Campaign materials, means of mobility and many other processes of electioneering cost money and material resources. It is adding insult to injury to spend huge sums of money only to end up squabbling with ruling party enthusiasts that lead to arrests, the hiring of lawyers and expending time and financial resources just to be free from conviction for election related offences.
In order not to be put in a situation where we might be motivated to find recourse to taking the law into our own hands and cause public disorder or be involved in court cases that consume time, money and votes, we considered it prudent to pursue mediation efforts to remedy the situation.
Electoral Reform before participation is the only logical strategy that could guarantee the opposition genuine electoral contests that are fraud, arrest, violent and intimidation free.
There is no doubt that since we raised our concerns during the parliamentary elections the ball has been put on your court to ameliorate our grievances by inviting the stakeholders to a political dialogue to promote electoral reform. No step has been taken to that effect, on your part, since the National Assembly elections. On our part we have written to you to show that your term has expired and that we have nothing against you in stating the incontrovertible position of the Constitution on the expiry of your 14 year term limit. Your best role is to be an adviser/consultant because of your vast experience in presiding over elections for 16 years. We have also written to Reverend Jesse Jackson, a prominent International personality to mediate.  If the executive had responded on time a minimum reform could have been put in place by now to begin the process of redressing past anomalies.
History clearly has on record that we have answered to the demand of reason and democracy by inviting some one who came to the Gambia under the auspices of the Government in its time of need and only had audience with the opposition as a matter of courtesy, to engage in preventive diplomacy, so as to enable us to pave the foundation for peaceful political coexistence and succession of political leadership, in pursuit of collective liberty and prosperity of our people.
We therefore hope that you will show in all fairness that our action is reasonable and justifiable and further prevail on the executive to muster the political will necessary to steer the country towards the safer shores of electoral reform, democracy, respect for fundamental rights, rule of law, accountability and transparency which would guarantee a destiny of liberty, dignity and prosperity to the people. History is writing the developments. Posterity will deliver its judgment. Let us all stand vigil in this time of uncertainty and save mother Gambia.
Yours in the service of the People,
Halifa Sallah
Secretary General
Read Other Articles In Article (Archive)