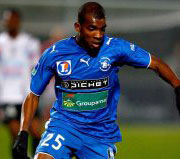 The defensive midfielder or right out defender, Charles Kabore who plays for Marseille, is adapting well to the two posts where he is trying to give the best of himself.
Charles, who returned to Ouagadougou like his teammates of the Burkina Faso national team, accepted to speak on the website of cafonline.
The Gambia Group F opponents Burkina Faso stand the chance of making it consecutively to a second Africa Cup of Nations tournament.
The Stallions would be confident of progressing from Group F starting with the Scorpions most awaited second group F test in Ouagadougou at the weekend of October 8.
Both sides are far apart if the FIFA rankings are anything to go by, as Gambia's Scorpions have jumped back into the world's top 100 football teams.
The latest FIFA-Coca Cola World Ranking released this month has put Paul Put's side number 91 in the world and 22nd in Africa.
The Stallions of Burkina Faso, who are reported to have regrouped in France early this month before their opening group F clash with The Gambia next month, enjoyed a significant jump from 45th in August to 39th in the world in September. They have also maintained their 8th place in the continent.
According to MTN website, the Burkinabes, the fourth best team at the 1998 Cup of Nations - which they hosted, will be thinking of the possibility of progressing to Equatorial Guinea/Gabon to duplicate the 1998 result.
One thing positive about the Burkinabe side is they have kept their national team coach Paulo Duarte, which is good for continuity, and can now build on what they achieved at the 2010 tournament in Angola.
Read Other Articles In Article (Archive)