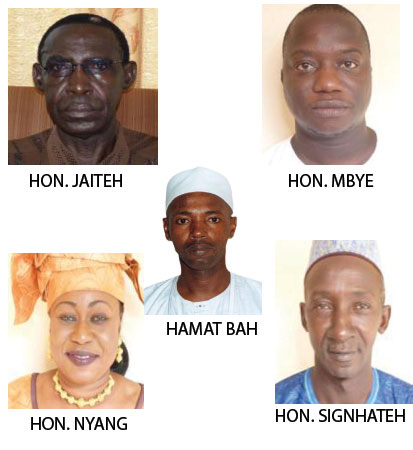 Campaigning for the 29th March parliamentary polls kicks off today, despite a boycott by six opposition parties in the country over "yet to be met demands" by the Independent Electoral Commission (IEC). Campaigning ends on Tuesday 27th March.
A total of 796,929 Gambians have registered to vote in the upcoming election, up from the 670,000 on electoral rolls in 2007.
Six out of seven opposition parties have boycotted the parliamentary polls, after declaring in a statement last Thursday that they were "pushed not to participate in the National Assembly elections."
In a joint statement signed by the leaders of the opposition parties, namely UDP, PDOIS, NADD, PPP, GMC and GPDP, they said since the Independent Electoral Commission has made it categorically clear that it will not postpone the polls, to accommodate "our genuine concerns and win the confidence of our supporters we, therefore, are pushed not to participate in the National Assembly elections."
Nominations ahead of the polls closed Saturday, with 24 out of a total of 48 elected seats in the National Assembly going to the ruling APRC, whose candidates were declared nominated unopposed, due to the opposition pull out.
With the boycott, the opposition now loses key seats in the Wuli West, Sami, Kiang West and Jarra Central constituencies, which were all held by them.
While the ruling Alliance for Patriotic Reorientation and Construction (APRC) party looks optimistic of sweeping the polls, the opposition, on the other hand, had called for the postponement of scheduled polls, citing what they said was the delay by the IEC to meet the opposition to discuss how to put the right conditions in place for genuine elections in the country.
However, the IEC rejected the criticism, insisting in a letter dated 5th March that the National Assembly election would be held as scheduled.
The APRC now faces election in 24 constituencies against 20 independent candidates and eight from the opposition National Reconciliation Party (NRP), which broke ranks with the rest of the opposition to contest the polls.
The NRP leader Hamat Bah is coming into the race for the Upper Saloum seat, which he previously held before being defeated by incumbent Sainey Mbye of the APRC.
While the opposition said it wishes to engage in a dialogue so that a national solution would be found to a national problem, so as to safeguard national integrity, Hamat Bah told The Point in an interview Monday that the idea of boycotting the polls was never part of the agenda of the opposition, when it started its discussions.
Read Other Articles In Article (Archive)