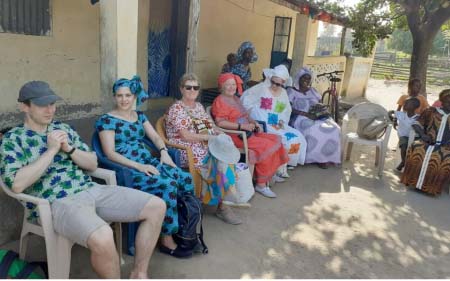 The Parish of Sunning Hill and All Souls South Ascot – England, in collaboration with Yabouy Home Cooking, Tuesday donated cash and materials to Sanyang Women Kafo and conducted a visit to their farm rice. The presentation was held at the Sanyang community Bantaba, in Kombo South.

Since their first visit in 2014, members of the Parish of Sunning Hill and All Souls South Ascot have been providing assistance to churches, schools and community women in The Gambia. Rev JC Faye School in Banjul, St. John's School in Serekunda, churches and women groups have benefitted from their revolving fund and materials.
Shelia Brown commented on the relationship between The Parish of Sunning Hill and All Souls South Ascot and Yabouy Charity, describing it as "a good and special relationship."
She expressed their satisfaction with the development that is happening at the different schools, churches, and community women groups they are supporting, through Yabouy Charity. "The satisfaction they derived from the relationship keeps them coming because we have seen how they made use of the assistance and equipment we gave them," she said.
According to Brown, their members enjoy being in The Gambia to support their beneficiaries, saying that is the main reason they always raise money and equipment to support them.
Ida Cham-Njie, proprietress of Yabouy Home Cooking who is also the Director of Yabouy Charity thanked members of The Parish of Sunning Hill and All Souls South Ascot for their support to Gambian people.
She said they have given her charity the opportunity to help Gambians, especially the women folk through revolving fund, cash donation and equipment, among other things.
Yabouy Charity was established in 2013 by Ida Cham-Njie with the aim to improve the lives of community women through meaningful socio-economic and environmental initiatives like micro-finance.
Read Other Articles In Article (Archive)