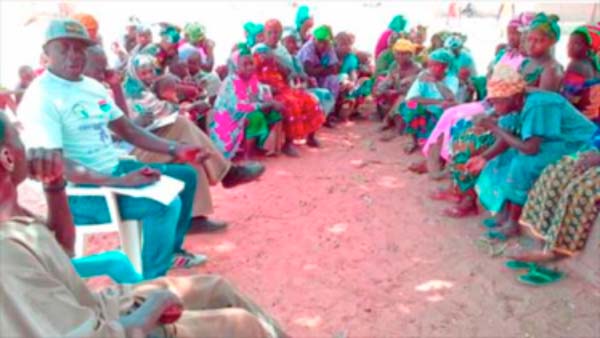 Lower River Region (LRR) was the latest to benefit from the National Council for Civic Education (NCCE) civic voter education sensitization programme funded by the UNDP.

Twenty communities in the six districts of Jarra East, Central and West, Kiang East, Central and West were sensitised on their rights and responsibilities as electorates, and the importance of their active participation in politics.
The NCCE is an independent, non-partisan council, created under the constitution, to cultivate an environment of democratic continuity in The Gambia that would enable all citizens to fully participate in the governance process of the country.
This is done through the promotion of political and civic consciousness, and the promotion of rights and freedoms of all citizens in accordance with the constitution of The Gambia and other regional and international human rights instruments to which the Gambia is a signatory.
The communities that benefited were Pakali Ba, Bureng, Sutukung, Wellingara Ba, Jappineh, Jalangberreh, Sitahuma, Kani Kunda, Sankuya, Misira, Geniere, Sare Samba, Kolior Nyamala, Nema, Sibito, Kwinella Sansankono, Janneh Kunda, Karantaba, Keneba and Tankular.
Speaking at Pakali Ba village, Junkung Saidy, NCCE senior civic officer, described elections as important, saying voting is what brings peace, stability as well as the developments they desire.
He said it is every citizen's right to be involved in national development; to vote and be voted for provided they meet the requirements, as well as have the right to association, assembly, freedom of expression and conscience.
Mr Saidy noted that the importance of the voter's card is to vote for the candidate they believe could bring national development.
"A single vote can make one win or lose election as the country has a simple majority system," he went on, while urging all to go out and vote on Election Day.
He pointed out that all political parties in the country are equal.
He also called on women and youths to change their attitude towards voting, saying both have the right to seek for public office.
He called on citizens to hold politicians accountable.
NCCE senior civic officer further urged people not to sell their votes, and that politics should not be run with violence.
He, therefore, urged citizens to maintain peace during and after elections.
Kebba O. Jobe, civic officer at NCCE, said politics comes and goes, but citizens will live together forever and, as such, they should not allow politics to divide them.
Musukebba Ceesay, a native of Pakali Ba, thanked NCCE for empowering them with knowledge that would help in their exercise of their rights as citizens.
Sonna Manneh, also a native of Pakali Ba, said the importance of education is for one to prosper in life, adding that they have gone past the stage to seek public office, but will educate their children in order to become responsible citizens.
Landing Kintehba, a native of Bureng village, said some people refuse to vote during elections because of lack of awareness and, therefore, commended NCCE for their noble work.
Read Other Articles In Article (Archive)