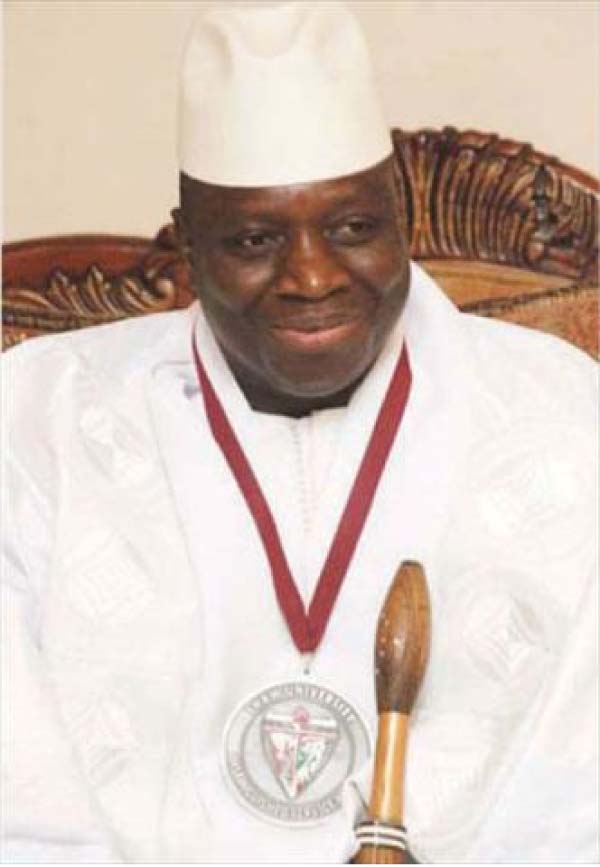 President Yahya Jammeh Saturday presented D110,000 to the family of the late Aja Mariama Jaw, APRC women mobilizer in Upper River Region.
The late Aja Mariama Jaw was laid to rest on Friday 2 October 2015, at her home town in Basse, Upper River Region.
She was said to have a brief sickness and eventually passed away at the Edward Francis Small Teaching Hospital in Banjul, where she was admitted.
Presenting the cash on behalf of the Gambian leader, the Deputy Minister of Agriculture, Ousman Jammeh, led by the Governor of URR Omar Sampo Ceesay, expressed on behalf of the Gambian leader heartfelt condolence to the bereaved family of the late Aja Mariama Jaw,whom he said was very dedicated and loyal to the APRC party.
He said the departure of the late Aja Mariam Jaw had created a bigvacuum in the entire party, and her name would remain in the recorded history of the country as far as the APRC party was concerned.
"We know Aja Mariama was a great leader and had been in the APRC party for years. She has also done a great job and played a very instrumental role towards the popularity of the APRC. She also brought a lot of members to the party," Deputy Minister Jammeh said.
In receiving the cash on behalf of the bereaved family, Baboucarr Jaw, elder brother to the late Aja Mariam Jaw, thanked the Almighty and expressed appreciation on behalf of their entire family for the support President Jammeh provided them.
This would go a long way in addressing the family needs, especially the children, he said and assured President Jammeh that the family would continue to be loyal, committed and dedicated to the APRC party and government.
"We are grateful to him and will continue to pray for him and his family members to have long life and to enable him take the country to higher heights," said Baboucarr Jaw.
The Imam Ratib of Basse, Alagie Yeroo Cham, commended President Jammeh for supporting the family of the deceased, saying the gift was not a surprise to the country as President Jammeh is known for helping humanity.
"We are expressing our appreciation on behalf of the family of the late Aja Mariama Jaw for the gift provided them," Imam Cham said. "We pray for the President for his long life to serve the country to the best of his ability."
Read Other Articles In Article (Archive)