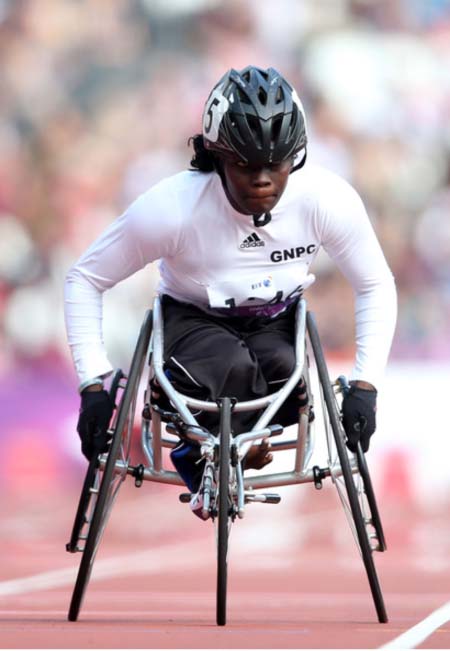 Paralympics athlete Isatou Nyang, who came second in the female 15 km July 22nd Marathon sponsored by President Yahya Jammeh has thanked the President and prayed for him to achieve all his desires.
According to Ms Nyang, the President sponsored them sometime back to go for classification and qualification in Tunisia.
Now, they are as well appealing to him to sponsor them to participate in the Rio 2016 Games, she added.
Speaking to reporters at Arch 22 in Banjul after completing her race, she thanked God as this was her first time competing in a marathon. The race was hard, and she only trained for three days.
"I have been competing in track and field events, but for the long distance I only trained for three days."
"Competing against able-bodied persons tells us a lot, and has given us experience," she said, adding that she would want to see the disabled continue competing against able-bodied athletes.
Demba Jarju, the Paralympics athlete who came first in the 21km race, said:
"I had the confidence of winning, because I have been competing both nationally and internationally."
Jarju represented The Gambia at the London Paralympics games. He too said he only trained for two days for the July 22nd anniversary Marathon.
He thanked God who gave him the strength to be able to win, and thanked President Jammeh for sponsoring the marathon.
He also thanked Gambia National Paralympics Committee President Sulayman Colley and his entire committee, his parents and all Gambians for their support.
He was delighted winning the event, he said, describing the race as interesting.
Jarju said his aim is to raise The Gambia's flag high at the 2016 Rio Olympics.
He clarified that it was the organising committee for the event which decided that both the disabled and able-bodied can participate in the marathon.
People underestimated them (paralympics athletes), he said, but now it is clear what they are capable of.
Read Other Articles In Article (Archive)