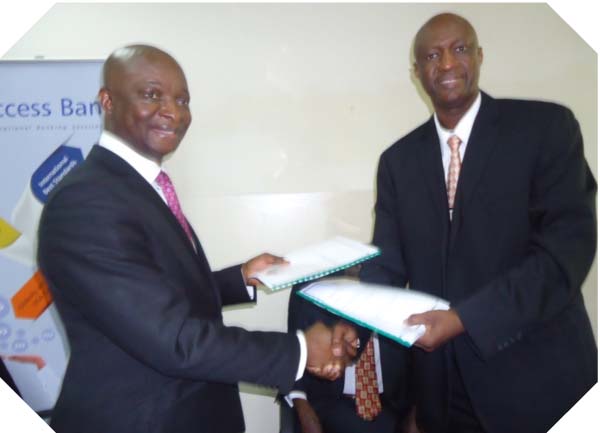 Access Bank Gambia Limited has signed a Memorandum of Understanding with the Gambia Revenue Authority (GRA).
The signing ceremony, attended by senior management officials of GRA and Access Bank, was held at the Access Bank main office on Tuesday at Kairaba Avenue.
The MoU seeks to ensure taxpayers pay their taxes directly into an agreed account at any of the Access Bank branches in the country.
In his remarks on the occasion, Yankuba Darboe, acting Commissioner General at GRA, said: "We are all aware that government, through the leadership of His Excellency [President Yahya Jammeh] has been engaging in vital reforms with regard to public service delivery, among other things."
He stressedthat in line with this, the board and management of the GRA has a host of strategies geared towards trade facilitation and making tax collection effective, efficient, fair, easy and at minimum cost for the taxpayers.
MrDarboe acknowledged that utilising commercial banks, and in this case Access Bank, has many advantages, like offering taxpayers the option to pay taxes and custom and duties at any of the Access Bank branches; and ease the burden on taxpayers from the need to travel all the way to Banjul headquarters for payment, thus yielding cost savings, among others.
The acting Commissioner General re-assured everyone that in their quest to facilitate tax payment, the GRA board and management are committed to extending the scheme to all the banks that satisfy GRA requirements.
He disclosed that to some extent, agreement had already been reached to sign MoUs with two other banks by the end of the year, and that consultations would continue to enable them roll out to other banks thereafter.
Mr Darboe urged taxpayers to start utilising Access Bank facilities for the payment of taxes and custom duties.
He also urged staff of Access Bank to work steadfastly with GRA in its nation-building efforts, and to ensure that payments received are remitted on time and that all aspects of the MoU are respected.
Representing the Managing Director of Access Bank was the chief operating officer of Access Bank, Salah Ailenmoagbon, who thanked GRA for accepting to partner with Access Bank in tax collection.
He added that they have been working to sign such a memorandum to work with the Gambia government through the GRA "to ensure an efficient and effective tax collection system."
This aim, he continued, is to see that taxpayers have the opportunity to pay their taxes "with allconvenience they deserve."
"It is our belief that using our network or branches will certainly make it easier for tax payers in the country to be able to pay their taxes at the right time," he said.
He then expressed his gratitude to GRA for training their staff and monitoring their branches to ensure everything is in place.
The trust placed in Access Bank would not be misplaced as theywould work diligently to ensure Access Bank justifies that confidence, he went on.
GRA chairman Mamour Malick Jagne said the signing ceremony was the second of its kind, following the pilot MoU signed in May 2011 with Guaranty Trust Bank.
He added that as a revenue collection administration, GRA is continually committed to improving its service delivery at all levels, and easing tax payments through use of commercial banks is one of their strategic plan deliverables and in line with the government's reform agenda.
He described the event as another milestone in that drive, and "be rest assured that it won't be the last."
Mr Jagne further stated that when they started their consultations with commercial banks in 2009, with a view to making them agents of revenue collection, all the 14 commercial banks were then consulted and presented the opportunity.
Mr Jagne thanked the management of Access Bank Gambia for realising this day, and the technical staff from the bank and GRA, "who worked behind the scenes to make this possible."
The Director of Finance at GRA, Alhajie S. Denton, said they started by piloting with GTBank, and Access Bank is the second bank to joining the exercise, "which demonstrates that we have utmost trust in you and in your ability, inyour infrastructure and service delivery and GRA wants to extend to the taxpayers."
He said signing the MOU is in the common interest of the two institutions.
The taxpayers can utilise these facilities, Denton went on, and urged Access Bank staff to help in facilitating taxpaying.
Read Other Articles In Article (Archive)