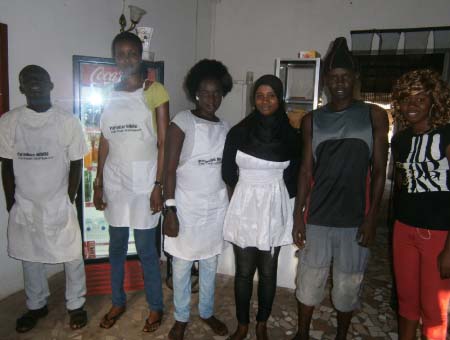 As the tourist season is fast approaching, more hotels and restaurants are preparing to beef up their operations in the country.One of them is Paradise White fast food and restaurant, located on the highway to Bakau Garage.
Paradise White, owned by a Senegalese national, is ready to entertain the public with food and drinks, music as well as internet access.
In a sustained effort to scale up its menu in harmony with pace and time, Paradise White Restaurant,a new outfit, is yet another addition to the range of choices available at what many consider to be among the country's finest culinary outfits.
Noted food professional Pap Jobe, who is the Manager of Paradise, in an exclusive interview with Point Entertainment and Lifestyle on Thursday, said the focus of his highly regarded restaurant is on customer satisfaction, consistency of style and quality.
He said the six-month-old outfit is here for the public to enjoy themselves.
"At the moment we are not receiving the amount of customers we expected but as the tourist season is approaching we are expecting more than the numbers we receive now," he said.
Manager Jobe told Entertainment and Lifestyle that despite the new system, Paradise is ready to take the challenge as well as to penetrate the market.
Establishing such a place at the heart of Serrekunda is a good move for the public, he said, adding that they are ready for any competition.
"The place operates 24 hours a day, goes with live music entertainment on Saturdays and Sundays by different artistes," he said.
"We have the Sampandalla band along with DJ Assan where all of them perform live music on Saturday and Sunday starting from 9 pm onwards. Paradise White caters for both European and African dishes, which is served fully to entertain the guests.
PAP Jobe went further to explain that Paradise White employed eight staff of which majority are Gambians.
"We consider it necessary to always bolster up our already comprehensive menu so as to meet the growing demands of the clientele," he said. "A popular night hotspot where a delightful buzz abounds, from hospitable and attentive waiters to diners lingering around, Paradise White restaurant's latest step in widening its innovative menu came hot on the heels of the introduction of different menu to its food-list.
Fatoumatta Ceesay, a Gambian who is working at Paradise White as both waiter and a cashier, told Entertainment and Lifestyle that the place is "nice" and the owner is putting in all the efforts to deliver the right service to customers.
Miss Ceesay added that she was working at Domeno restaurant in Senegambia as a cashier and it is there she got the experience.
"I have the experience to receive customers professionally during my duty. I think the name Paradise has sold for itself," she said, adding that people should visit the lively spot to see for themselves. "We cater for birthday celebrations, naming ceremonies, workshop programmes and many more events and activities," Ceesay said.
Read Other Articles In Article (Archive)