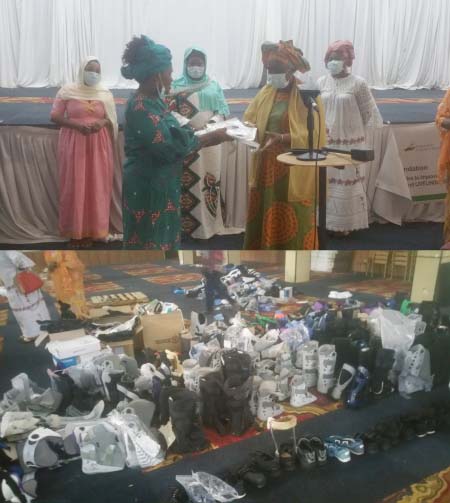 As part of their contribution to the fight against covid-19 pandemic in the country, Paradise Foundation on Monday donated medical equipment worth 1.2 million dalasis to the government of The Gambia through the ministries of Women Affairs and Health.

The medical consignment consists of respiratory masks, oxygen cylinders, mobility equipment, manual and electronic wheel chairs, cervical collars, oxygen tanks, nebulizer machine, infusion pumps and Paediatric nutrition, amongst others.
Paradise Foundation is a Gambian philanthropic organisation that seeks to empower communities to improve their health, education and livelihood. It also intends to support government efforts in servicing its communities.
Receiving the equipment on behalf of the government, Fatou Kinteh, minister of Women Affairs, Ahildren and Social Welfare said the donation would go towards meeting the needs of the elderly, physically challenged and the bedridden.
"These materials will put smiles on the faces of a large number of elderly people, physically disabled persons due to sickness and bedridden people. These equipment will go a long way in meeting the demands of Gambian citizens in the hospitals and those at home who cannot move around freely."
Minister Kinteh said Paradise Foundation is complementing government's efforts but said the government will require the support of organisations like Paradise Foundation and Paradise Suites Hotel as it cannot do everything alone.
She thanked Paradise Foundation and the management of Paradise Suites Hotel for taken up the bold initiative to boost the government in its efforts to provide quality health services to Gambian people.
She added that the consignment of the medical equipment was originally meant to be distributed to the Edward Francis Small Teaching Hospital but they decided to join the fight against the global pandemic to complement government's efforts.
Read Other Articles In Article (Archive)