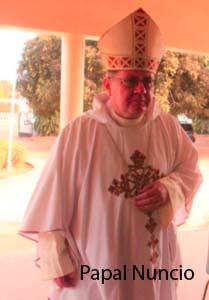 His Excellency, Most Rev. Miroslaw Adamczyk, the Apostolic Nuncio to The Gambia will pay a visit to the faithful and people of the Gambia on Thursday 11 August 2016. It may be recalled that his Excellency paid a similar visit to the faithful of the diocese three months ago (5-9th May 2016).

Most Rev. Miroslaw Adamczyk was born on the 16th July 1962 in Gdansk, Poland.
He was ordained Priest on the 16th May 1987. The Holy Father, Benedict XVI appointed him Apostolic Nuncio to The Gambia on the 8th June 2013 at the same time raising him to the dignity of an Archbishop. After entering the diplomatic service of the Holy See in 1993, he served in the nunciatures of Madagascar, India, Hungary, Belgium, South Africa and Venezuela.
The Gambia established diplomatic relations with the Holy See in 1997. The first Gambian ambassador to the Vatican was Alhaji Ousman Semega Janneh and the First Papal Nuncio to the Gambia was Archbishop Yohannes Dyba, who presented his credentials to President Sir Dawda Jawara on 29th February 1980. The immediate predecessor of Archbishop Mirsolaw Adamczyk was Archbishop Antonysami now Bishop in Madras, India.
He was ordained Bishop on the 27th April 2013. He presented his letters of credence to President Jammeh on Monday 4th November 2013.
A nuncio's functions
Since 1537, successive popes have sent nuncios to reside in the countries to which they are sent. The title 'nuncio' (in Italian, nunzio) derives from a Latin word, nuntius, which means 'messenger'. A papal nuncio represents the Catholic Church in the country or countries to which he is assigned, and serves as a mediator between the local Catholic Church and the Vatican. The nuncio announces the appointment of new bishops, serves as the Pope's representative at the installation of a bishop, and attends meetings of the local bishops' conference.
Generally, a papal nuncio has the rank of archbishop.
The Bishop of Banjul Most reverend Robert P. Ellison CSSp and Christ's Faithful of the Gambia heartily welcome the Nuncio on his visit. We will keep him in our prayers
PROGRAMME OF THE APOSTOLIC NUNCIO VISIT DIOCESE OF BANJUL
11th August Thursday to 15th August Monday.
1. Thursday, 11th August: Arrival Banjul, ARIK: 00.45 (Request for Audience with President of The Gambia.)
2. Friday, 12th August: 9.30 a.m. Meeting with Priests and Religious Sisters G.P.I. 7.00 p.m.: Reception (Venue to be confirmed).
3. Saturday, 13th August: 9.30 a.m.: Meeting with Priests, Religious and Lay Faithful in G.P.I. 'The Gambia: Islamic State' (and any other topics.)
4. Sunday, 14th August: 9.30 a.m.: Eucharist, St. Kizito's Parish, Bakoteh.
5. Monday, 15th August (Assumption of Our Lady into Heaven.): Departure Monrovia: 03.30 a.m.
Read Other Articles In Article (Archive)