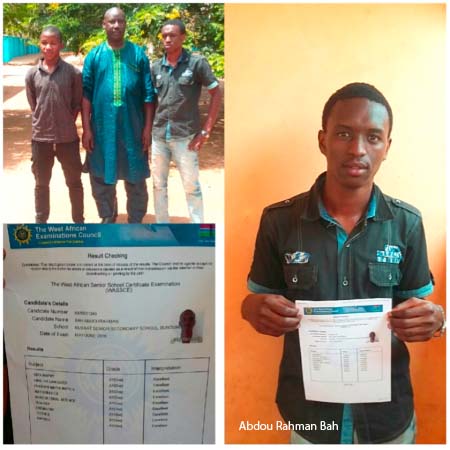 A 22-year-old student of Nusrat Senior Secondary School from Brufut village has bagged 9As in the West African Senior Secondary School Certificate Examination (WASSCE).

Abdou Rahman Bah had a similar impressive result when he sat to the Junior Certificate School Exams (GABECE) at the Brufut Upper Basic School.
Speaking to The Point about the boy's performance, Muhammed F. Jabbi, chairman of Conference of Principals, and principal of Brufut Upper and Senior Secondary School, said he was very proud of Abdou Rahman bah.
''I am indeed very proud and happy that our own Abdou Rahman Bah from Brufut has come out with the best results in the whole country, with 9As. He has indeed made the whole community of Brufut proud, especially his alma mater," Mr Jabbi said.
This was not a surprise as he also bagged aggregate 6, when he left the Brufut Junior School for Nusrat, he added.
Mr Jabbi further noted that because of the way they train their students at Brufut Junior and Senior Secondary School, their "students are doing well in schools throughout The Gambia".
Abdou Rahman's best friend and schoolmate at Nusrat, Muhammed Boye Jallow, who bagged 8As, was also from Brufut school, Mr Jabbi said, adding that they have all made Brufut village proud.
The principal of Nusrat Senior Secondary School, Karamo S. Bojang, in his remarks, said the impressive result of Abdou Rahman Bah was one of its kinds in his tenure as head of the school.
''Our students perform year-in-year out, but I have been waiting for a result of this caliber. I am very happy and proud of Abdou Rahman Bah coming out with 9As. It is indeed impressive," said Mr Bojang.
"Our discipline, hard work and dedication coupled with the desire to keep our good name yearly motivated us to give our students the encouragement they need to come up with such impressive results,'' he added.
Nusrat's Vice Principal George K. Annan, in his comments, said Abdou Rahman Bah was quietly arrayed in every way and has proven to be a humble, industrious and responsible student with a very good rapport with his teachers and colleague students.
Salieu Juldeh Bah, mother to Abdou Rahman Bah, and Uncle Ismail Bah, both expressed how proud and highly elated they are about their son and nephew, having got the best result in the country.
"We cannot describe how happy and proud we feel about him," they said.
For his part, Abdou Rahman Bah said it was amazing to learn that he bagged 9As upon seeing his results.
''Considering the tremendous hard work, dedication and discipline I have put in the preparation of the exams, I expected to perform well but not to the level of 9As. I thank God for it," he said.
''I study very hard and I always pray to God every day to make sure that I have a good connection with my creator," he added.
According to him, he is aspiring to study medicine at the university where he hopes to continue his academic success.
He hailed and thanked his parents, family, principal and colleague students who in one way or the other contributed to his tremendous academic success.
He urged and advised his junior colleagues to be disciplined, hardworking and religious, adding that if "you want success, you have to be disciplined, hardworking and prayerful in your endeavours; there is no magic or secret in education".
Read Other Articles In Article (Archive)