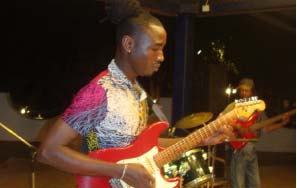 A rising Gambian artiste, PAP Larery, has finished a six-track compilation album for two years. The album which is expected to hit the market when it gets a sponsors.
In an exclusive interview with Entertainment on Tuesday at his residence in London Corner, PAP Larery said he is a musician and also a guitar player. He added that he started music for almost 20 years now. My vision as a guitar player is to support Gambian music.
The Gambian experience guitar player explained that the only problem they have as musicians is that the music in the Gambian is very slow. He went on to mention that during the tourist season time, musicians gain something compared to during the off season, when thing s are very hard for them.
He said those who are supposed to handle the music are not the right people to handling it. "I made a compilation album entitled 'Think about your country'. According to him, the album will have a duplicate before released.
PAP Larery added that as soon as he gets the sponsors, the album will come out. He called on musicians to come together as one family to perform during programs. He said in most countries music is very advanced compared to the Gambian music industry, which is very poor.
He called on young upcoming musicians to follow the right way, noting that they should also learn from people who have the experience. "I teach a lot of young talented musicians". He therefore thanked the Gambian leaders for his contribution in music. He said youth centres should be built for musicians, so that they can be  trained in music.
Read Other Articles In Article (Archive)