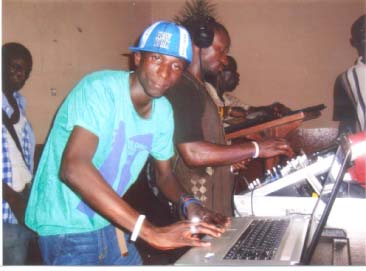 Preparations are in high gear as musicians and DJs in the country are wasting no time in making waves in the Gambian music scene. One of the famous DJs is among those who made a record in the Gambian music industry.
Ousman Mbye alias DJ T10 joined the music industry since 2009, and started with a small group called Judgement Yard. The group was created in order to train young upcoming artistes, as well as to learn from each other.
Speaking with Entertainment on Wednesday at his residence,  DJ T10 said in 2010 he started working  with a group called Feel No Pain, and when the group spilt up "that was the time I started working alone, and created my own crew called Big Yard".
The young Gambian DJ told Entertainment that  in May 2010 he met with a DJ called Master Lamin Touray from Finland, "whom I made a link with". He said "it was through that link we organized a show  in The Gambia with a Jamaican artiste. In January this year, I had a contract with Fela Sound International based in Holland with selector Galama Wily.
"I even brought a sound from Holland to The Gambia. I had a countrywide tour with them, and we did many shows in different clubs in The Gambia. The tour helped me a lot, because I had the opportunity to meet with a lot of DJs".
DJ T10 further explained to Entertainment that on the 11 September 2011 he had a show with his crew. The show featured some other groups as well. DJ T10 added that the aim of the show was to showcase girls' talent in dancing, where the first prize winner went home with D500. He said "the massive turn out of people made me very impressed", adding that this has encouraged him to do more for his fans, 'because they love and support whatever I'm doing'.
DJ T10 said he is not facing any financial problems for now, because his fans are very strong and they are behind him. He went on to say that the Gambian music is good and that they are doing everything possible to take it to the next level.
Read Other Articles In Article (Archive)