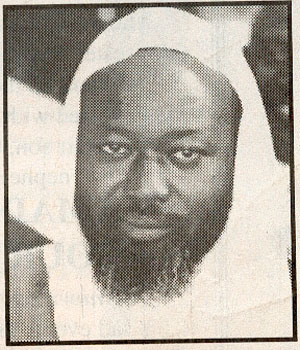 The Tallinding Islamic Institute was last Saturday the venue of a conference organised by Gambian Muslim religious leaders in the country. The conference, attended by hundreds of Islamic devotees, was born out of the concern of Muslim leaders with the growing influence of the Shia Islamic sect in The Gambia. Alhaji Abdoulie Fatty, the Imam of State House mosque, Sheikh Gibril Krubally, the Imam of Tallinding mosque and lecturer at the Tallinding Islamic Institute, Dr. Mbye Kah, a Gambian Islamic scholar of repute, Oustass Muhammad Lamin Touray and other notable religious commentators on the Islamic religion, took turns to impart well-researched material ranging from the origin, beliefs, practices, societal values, et cetera of the Shia sect to a rapt audience.
Addressing the gathering Imam Alhaji Abdoulie Fatty called on Gambians to be on their guard against possible advances of Shia adherents and apostles to lure them into embracing what he considered the heretic Shia doctrine. The Imam made reference to various instances and reasons why the beliefs and practices of the Shia sect are contrary to orthodox Islam as taught by the holy prophet Muhammad and spread by his devoted followers and companions. The Imam contended that the Shia doctrine is founded on the negation and rejection of the honour of the other three great Khaliphs (Leaders of the faithful) after the demise of the holy prophet, namely Aboubacarr, Omar and Ousman (Peace be Upon them). He said that the teachings of the Shia clamour for and favour the primacy of Khaliph Alie, the cousin of the holy prophet whom the Shia consider to be the rightful successor of the holy prophet (PBUH) but whose position as conferred by Prophet Muhammad (PBUH) himself was usurped by Aboubacarr and others through treachery.
According to Imam Abdoulie Fatty, the sect has in recent times reinforced its activities in The Gambia by establishing an office and aggressively promulgating their doctrine in the hope of winning converts. He labelled the Shia sect as troublesome and further advised those gathered not to welcome them in this country. He added that the Shia Muslims are responsible for most of the woes in the Muslim world, thus causing untold suffering to many. "Because of them Muslims are considered terrorists," he said, adding:
"They have the money to influence you, and they also provide scholarship for people."
He therefore advised Muslims to be mindful of them and not let them corrupt their unpolluted religious beliefs.
Shia is a Muslim sect, mostly found in Iran, Iraq and Lebanon and considered to have extreme and unusual beliefs and customs different from the orthodox and accepted teachings of the Holy Prophet Muhammad (peace be upon him).
Read Other Articles In Article (Archive)